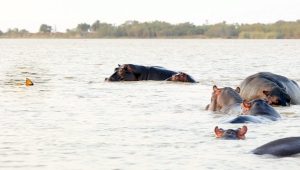 A small bull shark swims daringly close to a family of hippos in the iSimangaliso Wetland Park in KwaZulu-Natal, South Africa.
This rare footage was captured by 30-year-old tour operator Stacey Farrell from Heritage Tours and Safaris.
"During a hippo and crocodile safari on the St Lucia Estuary, we spotted a small bull – zambezi – shark swimming close to the hippo family. I stopped the boat along the bank as we were watching the pod of hippo return to the water," says Farrell.
Bull sharks are unique in that they can live in both salt and freshwater. Seeing them in the estuary is a common sight as this is where females will have their babies.
"Due to the hippo desiccating in the water there are generally a lot of fish between the hippos, so it would be the best place for the shark to be looking for a snack. The water was very muddy and the shark started bumping into the hippo which caused them to start attacking the shark. The shark was much faster and managed to get away at the last second", Farrell stated.