Macaque Monkeys Are Physically Capable of Speaking (Listen!)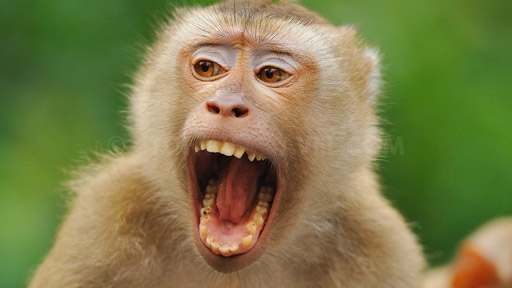 Image: tontantravel via Flickr
Some monkeys are physically capable of producing human speech. But their brains just aren't wired to do so, says a new study published in Science Advances.
Researchers recorded X-ray of a long-tailed macaque's vocal and facial movements as he made different sounds, like coos, grunts, yawns and lip smacks. Then, they used a computer model to simulate possible sounds based on the vocal configurations they captured.
They found that macaques could theoretically produce many the sounds needed for "clearly intelligible" human speech – including all five vowel sounds.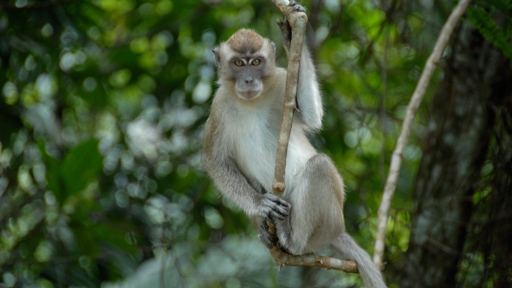 Image: Wikimedia Commons
So why haven't they actually develop the capacity to speak?
Well, the researchers say monkey's brains aren't "speech ready." They lack the ability to perform the complex vocal learning and speech control that is unique to humans — which is why scientists have never been able to successfully train primates to speak.
But even if they could talk, they probably wouldn't sound exactly like us. The computer's simulation of a macaque saying "Will you marry me?" sounds incredibly creepy. (Listen below.)
Up until now, scientists have debated whether it was anatomical or cognitive differences that make humans capable of speaking and not animals.
"Even if this finding only applies to macaque monkeys, it would still debunk the idea that it's the anatomy that limits speech in nonhumans," said Asif Ghazanfar, one of the study's authors, in a press release by Princeton University.
"Now, the interesting question is, what is it in the human brain that makes it special?"
The Latest
The hairy frogfish (Antennarius striatus), also known as striated frogfish, is one of the most bizarre creatures in the ocean. Found throughout tropical waters in the world's oceans, hairy frogfish have a wide...
Researchers have recently revealed the physical characteristics of a 500-million-year-old fossil — a worm-like creature with hairy front appendages and hook-like back claws.  Ovatiovermis cribratus was discovered in the Burgess shale and concluded to be a...
The worldwide phenomenon of animal beachings has been loosely attributed to many scientific theories, including solar storms — but this is the first time researchers will collect enough data to officially solve the plaguing mystery. Various...
Scientists recently observed the first ever documented asexual reproduction of a zebra shark  in captivity — a promising occurrence for the IUCN listed endangered species. Zebra sharks naturally inhabit the tropical waters of the Indo-Pacific...
Image: Wikimedia Commons Today we know orcas as large, ferocious predators who sit at the top of the ocean's food chain and regularly feed on whales, sharks, dolphins, fish and other sea creatures....
The fossils of an ancient crocodile were discovered in Tunisia — revealing an animal with a 30ft long body and a skull the size of a human.  Researchers were digging for fossils in Tunisia, Africa...