Boxer Crabs Have an Unusual Relationship With Sea Anemones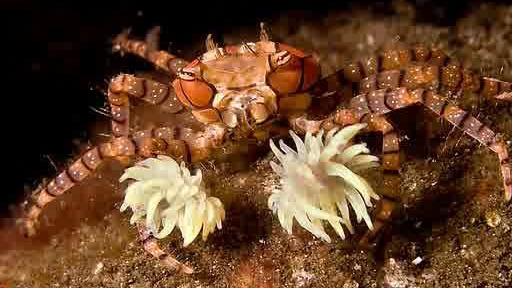 Image: Facebook
Boxer crabs feed sea anemones in exchange for defense from danger — serving as a prominent example of symbiosis in the animal kingdom.
Lybia tessellata is a tiny crustacean native to the tropical Indo-Pacific Ocean. These crabs are usually patterned with pink, brown, or yellow and reach about an inch in width. They bear slim claws and a front pair of walking legs that are longer than the other three pairs.
These crustaceans spend most of their time attached to reefs in shallow waters. They are known as 'pom-pom' or boxers crabs due to their unique presentation of sea anemones, which live attached to the crab's claws and are often wielded similarly to 'pom poms' or boxing gloves. 
Sea anemones are brightly colored cnidarians with simple digestive systems and a single body cavity surrounded by dangerous tentacles. The tentacles are covered in stinging cells called cnidocytes which act as defensive mechanisms and can assist in the capture of prey.
Boxer crabs and sea anemones form one of the most unusual and astounding symbiotic relationships in the entire animal kingdom. These crabs wield sea anemones attached to their claws in horizontal motions as they move. This colorful display serves as a natural deterrent to predators, and when directly threatened, the crab will utilize the sea anemone in a forward, 'punching' movement towards the aggressor. The sea anemone's stinging tentacles serve as the ultimate defense mechanism for the crab.
In exchange for this defense, boxer crabs feed their helpful partners. The crabs utilize the sea anemone's tentacles to collect food particles then subsequently digest the debris and provide adequate meals in return, making for the most unlikely and amazing friends. 
The Latest
The hairy frogfish (Antennarius striatus), also known as striated frogfish, is one of the most bizarre creatures in the ocean. Found throughout tropical waters in the world's oceans, hairy frogfish have a wide...
Researchers have recently revealed the physical characteristics of a 500-million-year-old fossil — a worm-like creature with hairy front appendages and hook-like back claws.  Ovatiovermis cribratus was discovered in the Burgess shale and concluded to be a...
The worldwide phenomenon of animal beachings has been loosely attributed to many scientific theories, including solar storms — but this is the first time researchers will collect enough data to officially solve the plaguing mystery. Various...
Scientists recently observed the first ever documented asexual reproduction of a zebra shark  in captivity — a promising occurrence for the IUCN listed endangered species. Zebra sharks naturally inhabit the tropical waters of the Indo-Pacific...
Image: Wikimedia Commons Today we know orcas as large, ferocious predators who sit at the top of the ocean's food chain and regularly feed on whales, sharks, dolphins, fish and other sea creatures....
The fossils of an ancient crocodile were discovered in Tunisia — revealing an animal with a 30ft long body and a skull the size of a human.  Researchers were digging for fossils in Tunisia, Africa...