Cecil the Lion's Mate Survives Hyena Attack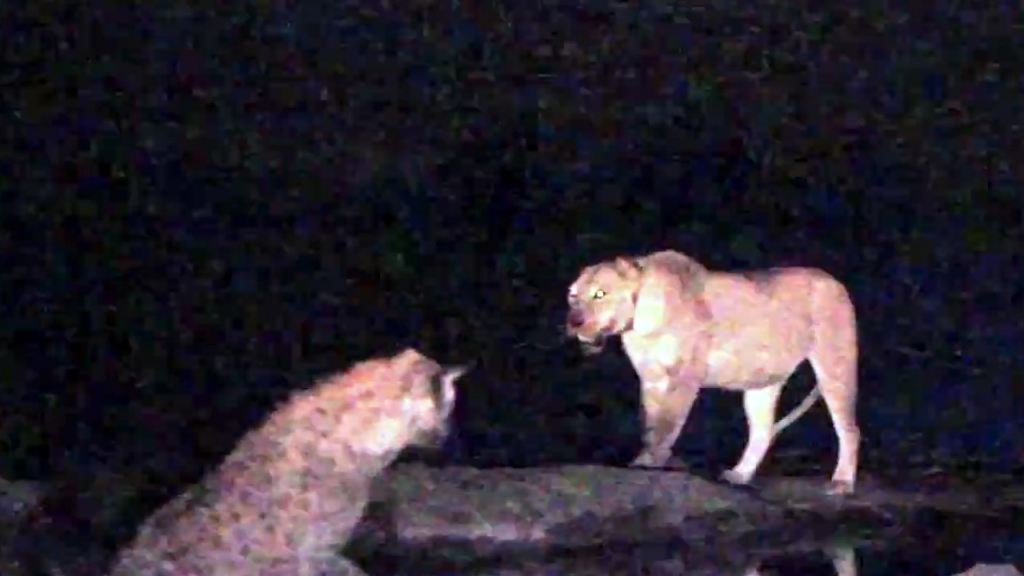 Cecil's mate and his adolescent cubs are surrounded by 9 Hyenas after making a kill. This is a classic battle in the wild savannah of Africa.
Cecil was a male Southwest African lion that lived in the Hwane National Park in Zimbabwe. He was famously killed by an American big game hunter on July 1, 2015.
Since the killing of Cecil, this species of lion has been put on the endangered species list, and worldwide awareness of illegal hunting has spurred countless new initiatives, ensuring the protection of these awesome animals.
But that doesn't mean lions live without any threats.
Lions and hyenas are both apex predators in Africa. While lions are known as the 'King of the Jungle', hyenas have bone-crushing biting abilities, and a ferocious tenacity. Things look grim for the lioness when the hyenas decide to attack, however Cecil's mate is now doing much better. Park officials report that the lioness had survived the attack – albeit with a broken ear, but had rejoined her pride and is still doing well and has since had new cubs.
Video:
The Latest
With its frilled gills, layered needle-point teeth, snake-like appearance, and quick-striking abilities, this shark is one of the most engrossing creatures of the deep sea. Chlamydoselachus anguineus, most commonly referred to as the...
Reports of oarfish turning up on shore have historically preceded earthquakes — leaving scientists pondering how some animals may be able to forecast the future. Regalecus glesne, or the oarfish, is the longest bony...
This monkey is a real swinger, and researchers have the sex tape to prove it. The Japanese macaque was recorded trying to mount not one, but two Sika deer, and even chased away...
A new species of spider wasp was discovered killing live ants and collecting the bodies for home security. Deuteragenia ossarium is a recently analyzed species of spider wasp that was found hiding skeletons...
A director for the Sea Shepherd Conservation Society recently reported finding more than 100,000 shark fins drying on a rooftop in Shanghai.  Southeast Asia has become the frontrunner for capturing sharks and removing...
Image: Wikipedia While theoretically larger animals with more cells should be more predisposed to cancer — research shows elephants are hardly ever affected. Cancer is created when mistakes are made in cell reproduction,...