Cecil the Lion's Mate Survives Hyena Attack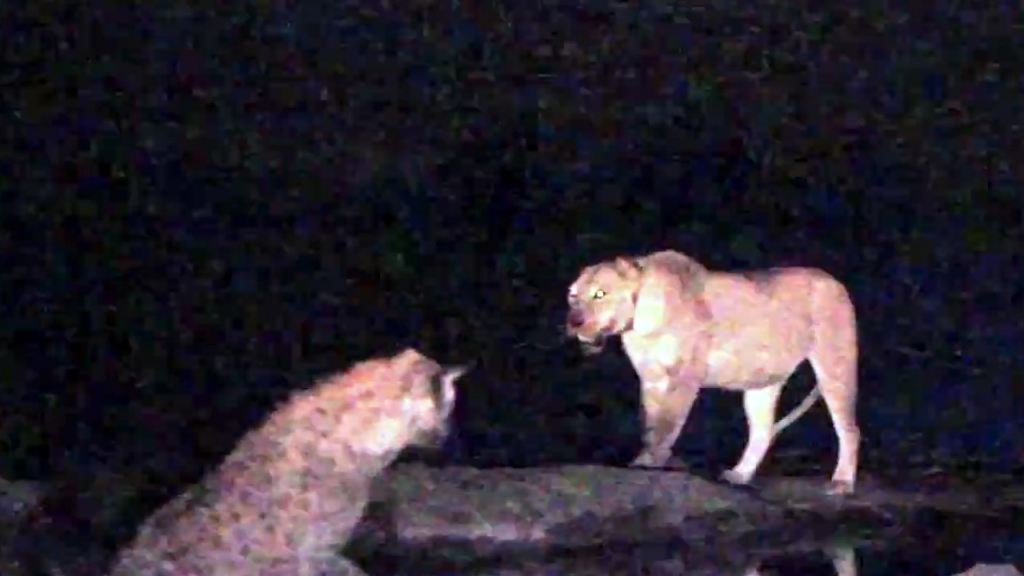 Cecil's mate and his adolescent cubs are surrounded by 9 Hyenas after making a kill. This is a classic battle in the wild savannah of Africa.
Cecil was a male Southwest African lion that lived in the Hwane National Park in Zimbabwe. He was famously killed by an American big game hunter on July 1, 2015.
Since the killing of Cecil, this species of lion has been put on the endangered species list, and worldwide awareness of illegal hunting has spurred countless new initiatives, ensuring the protection of these awesome animals.
But that doesn't mean lions live without any threats.
Lions and hyenas are both apex predators in Africa. While lions are known as the 'King of the Jungle', hyenas have bone-crushing biting abilities, and a ferocious tenacity. Things look grim for the lioness when the hyenas decide to attack, however Cecil's mate is now doing much better. Park officials report that the lioness had survived the attack – albeit with a broken ear, but had rejoined her pride and is still doing well and has since had new cubs.
Video:
The Latest
The hairy frogfish (Antennarius striatus), also known as striated frogfish, is one of the most bizarre creatures in the ocean. Found throughout tropical waters in the world's oceans, hairy frogfish have a wide...
Researchers have recently revealed the physical characteristics of a 500-million-year-old fossil — a worm-like creature with hairy front appendages and hook-like back claws.  Ovatiovermis cribratus was discovered in the Burgess shale and concluded to be a...
The worldwide phenomenon of animal beachings has been loosely attributed to many scientific theories, including solar storms — but this is the first time researchers will collect enough data to officially solve the plaguing mystery. Various...
Scientists recently observed the first ever documented asexual reproduction of a zebra shark  in captivity — a promising occurrence for the IUCN listed endangered species. Zebra sharks naturally inhabit the tropical waters of the Indo-Pacific...
Image: Wikimedia Commons Today we know orcas as large, ferocious predators who sit at the top of the ocean's food chain and regularly feed on whales, sharks, dolphins, fish and other sea creatures....
The fossils of an ancient crocodile were discovered in Tunisia — revealing an animal with a 30ft long body and a skull the size of a human.  Researchers were digging for fossils in Tunisia, Africa...