Alligator vs. Alligator Battle in Florida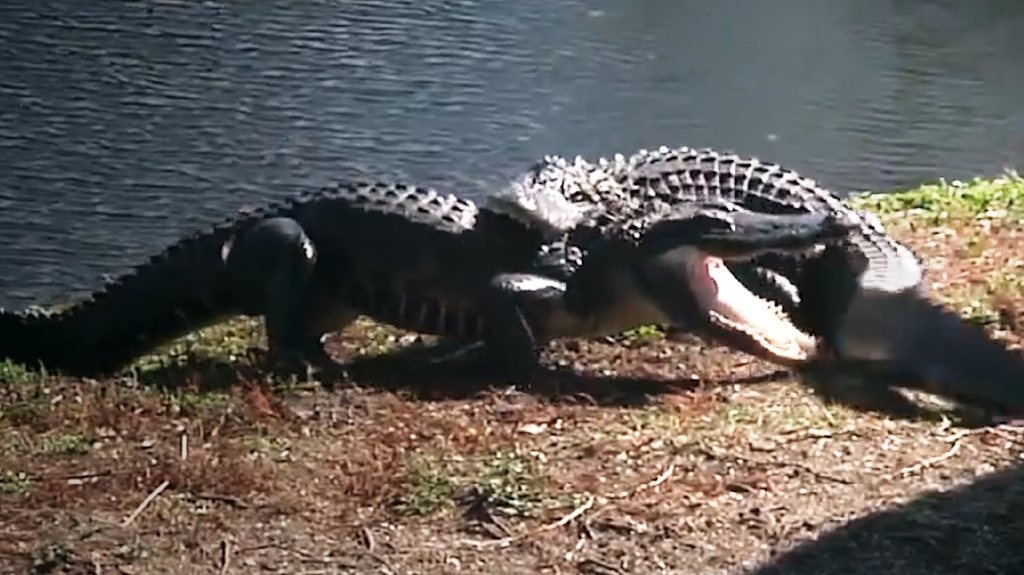 These two alligators were spotted attacking each other in a vicious struggle for supremacy. The battle was filmed in Clearwater, FL. The broadcast for this fight was cut short when the gators splashed into the water. Just another sunny day in Florida!
This kind of behavior is common for alligators. Predatory reptilians like alligators and crocodiles will often engage in battle with one another for a variety of reasons, such as when food is low, for territory, or for dominance. Alligators can be very aggressive, and this natural aggression does not differentiate between species.
Florida is full of alligators. They are apex predators throughout their wetland ranges, and they will be exceptionally territorial during breeding season.
During this time of the year, for approximately two months, the gators will spar and wrestle with each other to prove who is the strongest and most fit to reproduce.
These battles will often result with the loser being badly injured. Alligators just aren't very nice to each other.
The gators in this video are probably not cannibalistic as much as they are wrestling. These creatures will, however, engage in cannibalistic and violent behavior from time to time.
Watch the fight in the video below:
The Latest
Reports of oarfish turning up on shore have historically preceded earthquakes — leaving scientists pondering how some animals may be able to forecast the future. Regalecus glesne, or the oarfish, is the longest bony...
This monkey is a real swinger, and researchers have the sex tape to prove it. The Japanese macaque was recorded trying to mount not one, but two Sika deer, and even chased away...
A new species of spider wasp was discovered killing live ants and collecting the bodies for home security. Deuteragenia ossarium is a recently analyzed species of spider wasp that was found hiding skeletons...
A director for the Sea Shepherd Conservation Society recently reported finding more than 100,000 shark fins drying on a rooftop in Shanghai.  Southeast Asia has become the frontrunner for capturing sharks and removing...
Image: Wikipedia While theoretically larger animals with more cells should be more predisposed to cancer — research shows elephants are hardly ever affected. Cancer is created when mistakes are made in cell reproduction,...
These unique reptiles open gaping pink mouths and wag their bright blue tongues to scare away predators — often with astounding success. Blue tongued skinks are native to Australia and persist primarily in...