Alligator vs. Alligator Battle in Florida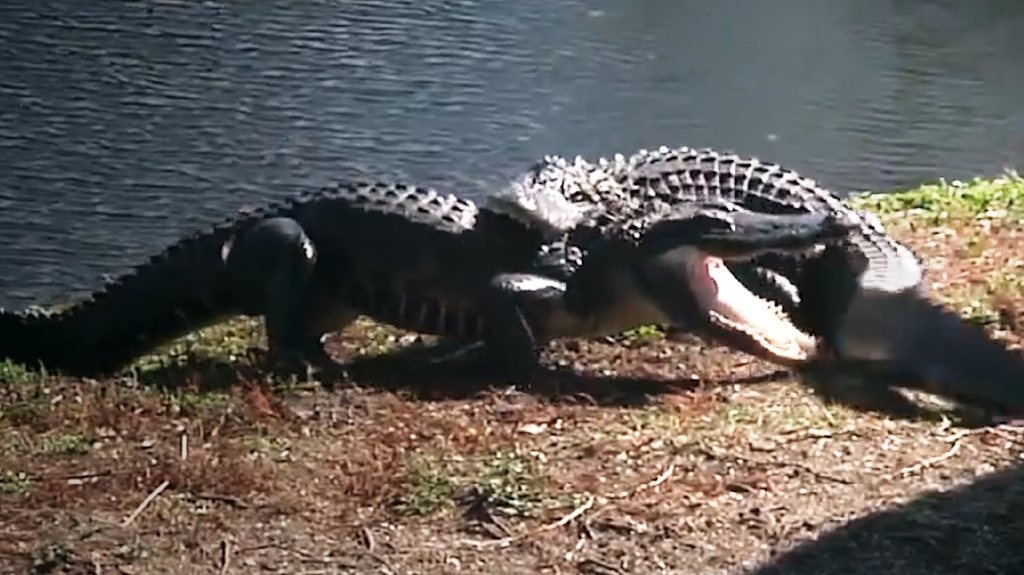 These two alligators were spotted attacking each other in a vicious struggle for supremacy. The battle was filmed in Clearwater, FL. The broadcast for this fight was cut short when the gators splashed into the water. Just another sunny day in Florida!
This kind of behavior is common for alligators. Predatory reptilians like alligators and crocodiles will often engage in battle with one another for a variety of reasons, such as when food is low, for territory, or for dominance. Alligators can be very aggressive, and this natural aggression does not differentiate between species.
Florida is full of alligators. They are apex predators throughout their wetland ranges, and they will be exceptionally territorial during breeding season.
During this time of the year, for approximately two months, the gators will spar and wrestle with each other to prove who is the strongest and most fit to reproduce.
These battles will often result with the loser being badly injured. Alligators just aren't very nice to each other.
The gators in this video are probably not cannibalistic as much as they are wrestling. These creatures will, however, engage in cannibalistic and violent behavior from time to time.
Watch the fight in the video below:
The Latest
A group has started looking at the culling methods of "unwanted animals" to determine if there are better ways.  Invasive species are often considered pests in their non-native homes, including possums, rabbits, beavers, cats, and...
Image: Wikimedia Commons Predators will start becoming even fiercer as global temperatures rise, says a new study that looked at how warmer conditions could affect diversity and competition between species. According to a...
Researchers have just confirmed that while cephalopods (octopus, cuttlefish and squid) are experts at camouflaging themselves, they're completely colorblind. Professor Justin Marshall and Dr Wen-Sung Chung of the Queensland Brain Institute studied octopus...
The mystical ghost shark has inhabited the deepest ocean depths since before the age of the dinosaurs and scientists have just recently discovered the 50th species — reportedly the second largest in history. Ghost...
A giant worm-like sea creature the size of a baseball bat was recently spotted by scientists for the first time, and you may wish you'd never seen them. Though their long, tusk-like shells...
Image: Wikimedia Commons Humans typically aren't a favorite menu item for lions, but occasionally, they do prey on people. Perhaps the most infamous incident was in 1898, when a pair of lions went on...