Alligator vs. Alligator Battle in Florida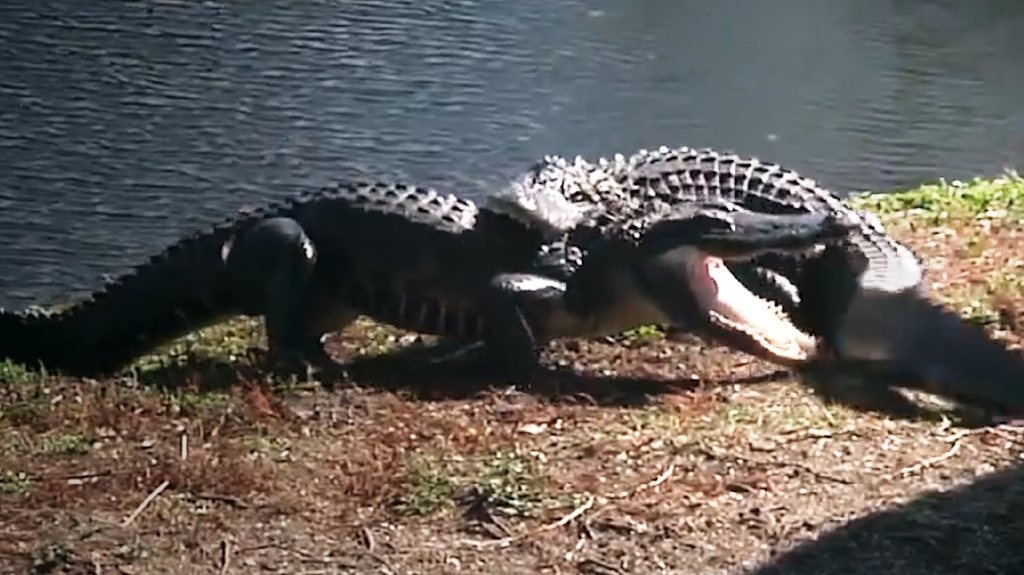 These two alligators were spotted attacking each other in a vicious struggle for supremacy. The battle was filmed in Clearwater, FL. The broadcast for this fight was cut short when the gators splashed into the water. Just another sunny day in Florida!
This kind of behavior is common for alligators. Predatory reptilians like alligators and crocodiles will often engage in battle with one another for a variety of reasons, such as when food is low, for territory, or for dominance. Alligators can be very aggressive, and this natural aggression does not differentiate between species.
Florida is full of alligators. They are apex predators throughout their wetland ranges, and they will be exceptionally territorial during breeding season.
During this time of the year, for approximately two months, the gators will spar and wrestle with each other to prove who is the strongest and most fit to reproduce.
These battles will often result with the loser being badly injured. Alligators just aren't very nice to each other.
The gators in this video are probably not cannibalistic as much as they are wrestling. These creatures will, however, engage in cannibalistic and violent behavior from time to time.
Watch the fight in the video below:
The Latest
Image: Wikimedia Commons Meet the lionfish: the attractive, but deadly predator that's terrorizing oceans and decimating ecosystems. Native to the Indian and Pacific oceans, lionfish have now made themselves at home throughout the...
The largest deer species ever to walk the earth bore 12ft antlers but died out more than 10,000 years ago — leaving scientists debating its evolution. Megaloceros giganteus has many names, including the...
In the United States, mountain lions and bobcats are currently the biggest felines around; but there was once a different big cat that ruled the American Southwest — the jaguar. If you've watched a few...
Scientists are getting closer to reviving extinct species — but are the benefits worth losing species we already have?  The theoretical idea began with the legendary Jurassic Park and it is becoming a reality now...
Chimpanzees are our closest relatives, so it's no surprise that they use tools to survive in the wilderness. But other less advanced primates make use of tools as well, and they use them...
Woolly mammoths are the most famous of all Ice Age fauna, and they roamed the frozen wastelands of North America and Eurasia until they died out roughly 10,000 years ago. Their extinction is...