Alligator vs. Alligator Battle in Florida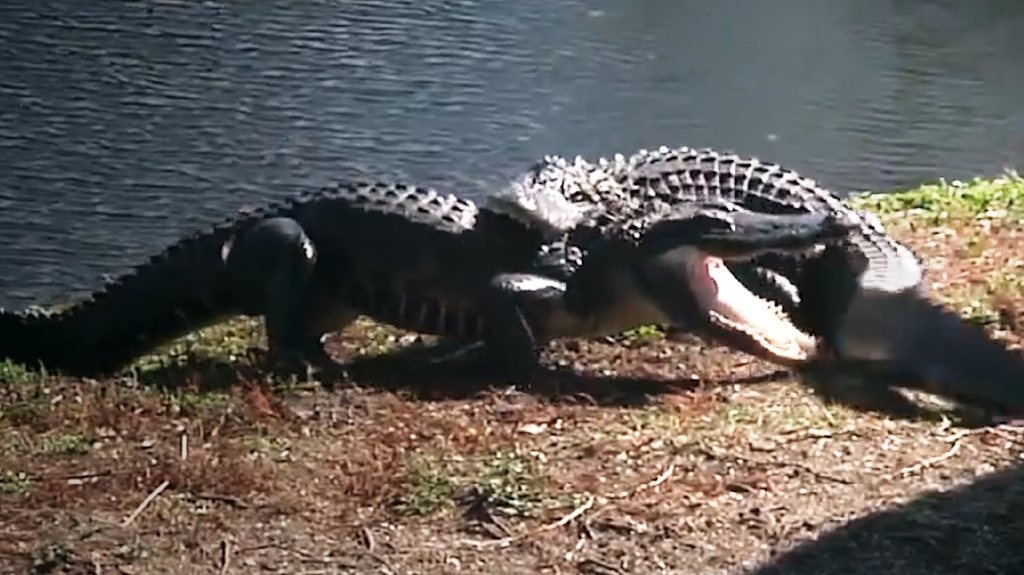 These two alligators were spotted attacking each other in a vicious struggle for supremacy. The battle was filmed in Clearwater, FL. The broadcast for this fight was cut short when the gators splashed into the water. Just another sunny day in Florida!
This kind of behavior is common for alligators. Predatory reptilians like alligators and crocodiles will often engage in battle with one another for a variety of reasons, such as when food is low, for territory, or for dominance. Alligators can be very aggressive, and this natural aggression does not differentiate between species.
Florida is full of alligators. They are apex predators throughout their wetland ranges, and they will be exceptionally territorial during breeding season.
During this time of the year, for approximately two months, the gators will spar and wrestle with each other to prove who is the strongest and most fit to reproduce.
These battles will often result with the loser being badly injured. Alligators just aren't very nice to each other.
The gators in this video are probably not cannibalistic as much as they are wrestling. These creatures will, however, engage in cannibalistic and violent behavior from time to time.
Watch the fight in the video below:
The Latest
The hairy frogfish (Antennarius striatus), also known as striated frogfish, is one of the most bizarre creatures in the ocean. Found throughout tropical waters in the world's oceans, hairy frogfish have a wide...
Researchers have recently revealed the physical characteristics of a 500-million-year-old fossil — a worm-like creature with hairy front appendages and hook-like back claws.  Ovatiovermis cribratus was discovered in the Burgess shale and concluded to be a...
The worldwide phenomenon of animal beachings has been loosely attributed to many scientific theories, including solar storms — but this is the first time researchers will collect enough data to officially solve the plaguing mystery. Various...
Scientists recently observed the first ever documented asexual reproduction of a zebra shark  in captivity — a promising occurrence for the IUCN listed endangered species. Zebra sharks naturally inhabit the tropical waters of the Indo-Pacific...
Image: Wikimedia Commons Today we know orcas as large, ferocious predators who sit at the top of the ocean's food chain and regularly feed on whales, sharks, dolphins, fish and other sea creatures....
The fossils of an ancient crocodile were discovered in Tunisia — revealing an animal with a 30ft long body and a skull the size of a human.  Researchers were digging for fossils in Tunisia, Africa...