Drone Video Catches Rare Type of Killer Whale Attacking Shark For Second Time In A Week
Sharks are often seen as the top predators in the ocean, but these killer whales are reminding us why they're a creature to be reckoned with.
Earlier in the week, video captured by Slater Moore Photography and posted to Monteray Bay Whale Watch shows offshore killer whales feeding on what the company believed to be a Sevengill shark. According to the photographer, this type of killer whale is typically smaller than other types of killer whales are not typically seen in the area.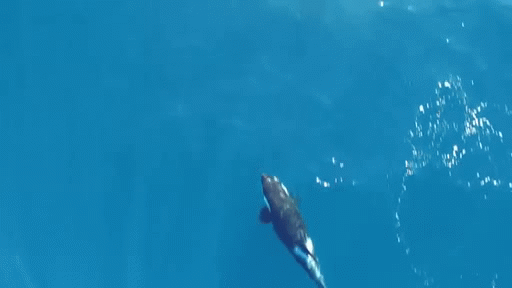 According to Katlyn Taylor, a marine biologist on the boat with Slater Moore Photography, the whales brought up the entire shark as it continued to wiggle around. While it was a worthy adversary, the young shark proved to be no match for the whales and became and inevitable meal.
While offshore killer whales are known to enjoy eating sharks, actually catching them in the act is rare. Amazingly, another drone video captured this week by Eric Martin shows a similar scene. Martin captured the sight off the shore of Long Beach, California.
Footage like this is rare because offshore killer whales are usually seen much further…offshore. Martin's footage shows the adult female whale seemingly carry a blue shark on its fin as other individuals follow closely behind.
Transient killer whales are more typical visitors of the area. This ecotype of whale mainly eat other mammals and leave the shark-eating to the offshore whale.
Video:
The Latest
Image: Wikimedia Commons Meet the lionfish: the attractive, but deadly predator that's terrorizing oceans and decimating ecosystems. Native to the Indian and Pacific oceans, lionfish have now made themselves at home throughout the...
The largest deer species ever to walk the earth bore 12ft antlers but died out more than 10,000 years ago — leaving scientists debating its evolution. Megaloceros giganteus has many names, including the...
In the United States, mountain lions and bobcats are currently the biggest felines around; but there was once a different big cat that ruled the American Southwest — the jaguar. If you've watched a few...
Scientists are getting closer to reviving extinct species — but are the benefits worth losing species we already have?  The theoretical idea began with the legendary Jurassic Park and it is becoming a reality now...
Chimpanzees are our closest relatives, so it's no surprise that they use tools to survive in the wilderness. But other less advanced primates make use of tools as well, and they use them...
Woolly mammoths are the most famous of all Ice Age fauna, and they roamed the frozen wastelands of North America and Eurasia until they died out roughly 10,000 years ago. Their extinction is...