Great White Shark Stranded on Beach (Amazing Rescue!)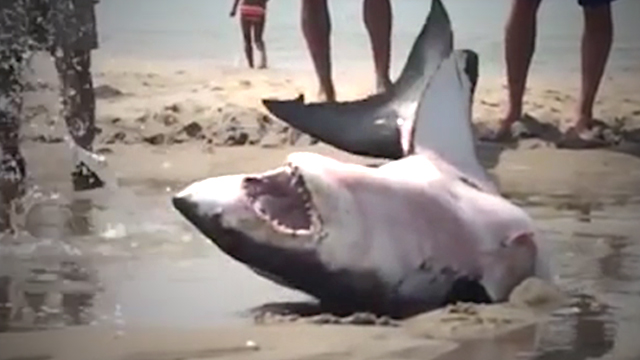 A young Great White Shark was found struggling for life while stranded on a Cape Cod beach in one of the most compelling video clips of a shark rescue ever seen.
As the great fish flailed about, some brave beach-goers saved the shark's life by pouring buckets of water on the beast until a rescue team could be assembled. The rescue team acted fast, tugging the shark back into the water. They used a powerboat to transport him back to deep waters, away from swimmers near the shore.
Once the shark reached deeper waters, he swam away relatively unscathed. Watch the video here:
The Latest
Image: Wikimedia Commons Meet the lionfish: the attractive, but deadly predator that's terrorizing oceans and decimating ecosystems. Native to the Indian and Pacific oceans, lionfish have now made themselves at home throughout the...
The largest deer species ever to walk the earth bore 12ft antlers but died out more than 10,000 years ago — leaving scientists debating its evolution. Megaloceros giganteus has many names, including the...
In the United States, mountain lions and bobcats are currently the biggest felines around; but there was once a different big cat that ruled the American Southwest — the jaguar. If you've watched a few...
Scientists are getting closer to reviving extinct species — but are the benefits worth losing species we already have?  The theoretical idea began with the legendary Jurassic Park and it is becoming a reality now...
Chimpanzees are our closest relatives, so it's no surprise that they use tools to survive in the wilderness. But other less advanced primates make use of tools as well, and they use them...
Woolly mammoths are the most famous of all Ice Age fauna, and they roamed the frozen wastelands of North America and Eurasia until they died out roughly 10,000 years ago. Their extinction is...