Great White Shark Stranded on Beach (Amazing Rescue!)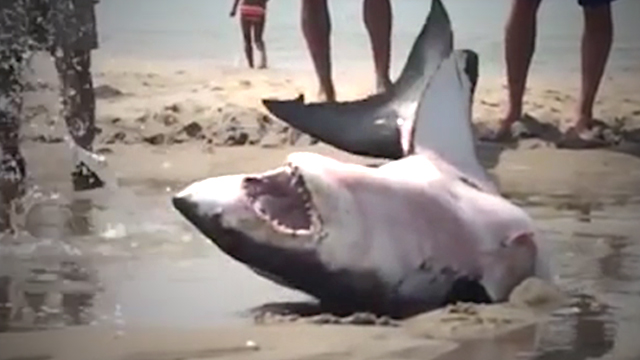 A young Great White Shark was found struggling for life while stranded on a Cape Cod beach in one of the most compelling video clips of a shark rescue ever seen.
As the great fish flailed about, some brave beach-goers saved the shark's life by pouring buckets of water on the beast until a rescue team could be assembled. The rescue team acted fast, tugging the shark back into the water. They used a powerboat to transport him back to deep waters, away from swimmers near the shore.
Once the shark reached deeper waters, he swam away relatively unscathed. Watch the video here:
The Latest
The hairy frogfish (Antennarius striatus), also known as striated frogfish, is one of the most bizarre creatures in the ocean. Found throughout tropical waters in the world's oceans, hairy frogfish have a wide...
Researchers have recently revealed the physical characteristics of a 500-million-year-old fossil — a worm-like creature with hairy front appendages and hook-like back claws.  Ovatiovermis cribratus was discovered in the Burgess shale and concluded to be a...
The worldwide phenomenon of animal beachings has been loosely attributed to many scientific theories, including solar storms — but this is the first time researchers will collect enough data to officially solve the plaguing mystery. Various...
Scientists recently observed the first ever documented asexual reproduction of a zebra shark  in captivity — a promising occurrence for the IUCN listed endangered species. Zebra sharks naturally inhabit the tropical waters of the Indo-Pacific...
Image: Wikimedia Commons Today we know orcas as large, ferocious predators who sit at the top of the ocean's food chain and regularly feed on whales, sharks, dolphins, fish and other sea creatures....
The fossils of an ancient crocodile were discovered in Tunisia — revealing an animal with a 30ft long body and a skull the size of a human.  Researchers were digging for fossils in Tunisia, Africa...