Saving a Cougar Caught in a Trap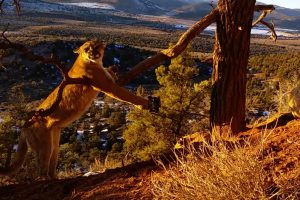 When a large cougar got its paw caught in a hunting trap, it was up to these rescuers to save this majestic big cat. A video detailing the rescue effort has been shared all over the internet.
The trap was meant to catch bobcats, which overrun the area. This occurred in the Pine Valley Mountains in southern Utah. This large cougar had the misfortune of getting its paw stuck. Watch how angry the wild cat is in the face of its unknown rescuers the video below.
Department of Wildlife Resources conservation officer Mark Ekins said he often responds to help trappers release cougars, which are accidentally caught in traps meant for coyotes or bobcats. It is against the law to intentionally trap a cougar in the state of Utah. If a trapper discovers a mountain lion in their trap, they are legally required to release the animal and report it to DWR officials within 48 hours.
Trappers are discouraged from attempting to release accidentally-caught cougars themselves. "It could be a potential dangerous situation," Ekins said. "Anytime they feel uncomfortable at all, we'd definitely rather them call us and allow us to help them rather than take a chance of injuring an animal."
While many of the large cougars are able to pull out of the traps and can free themselves, sometimes help is required to safely release the animal. Ekins said they "prefer to use animal tranquilizer darts when possible… but tranquilizers have to be kept in a main DWR office", and thus in remote areas like this, rescuers must use old fashioned methods.
Watch the intense rescue now:
Full video:
The Latest
Reports of oarfish turning up on shore have historically preceded earthquakes — leaving scientists pondering how some animals may be able to forecast the future. Regalecus glesne, or the oarfish, is the longest bony...
This monkey is a real swinger, and researchers have the sex tape to prove it. The Japanese macaque was recorded trying to mount not one, but two Sika deer, and even chased away...
A new species of spider wasp was discovered killing live ants and collecting the bodies for home security. Deuteragenia ossarium is a recently analyzed species of spider wasp that was found hiding skeletons...
A director for the Sea Shepherd Conservation Society recently reported finding more than 100,000 shark fins drying on a rooftop in Shanghai.  Southeast Asia has become the frontrunner for capturing sharks and removing...
Image: Wikipedia While theoretically larger animals with more cells should be more predisposed to cancer — research shows elephants are hardly ever affected. Cancer is created when mistakes are made in cell reproduction,...
These unique reptiles open gaping pink mouths and wag their bright blue tongues to scare away predators — often with astounding success. Blue tongued skinks are native to Australia and persist primarily in...