Saving a Cougar Caught in a Trap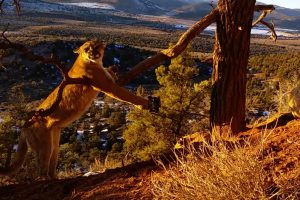 When a large cougar got its paw caught in a hunting trap, it was up to these rescuers to save this majestic big cat. A video detailing the rescue effort has been shared all over the internet.
The trap was meant to catch bobcats, which overrun the area. This occurred in the Pine Valley Mountains in southern Utah. This large cougar had the misfortune of getting its paw stuck. Watch how angry the wild cat is in the face of its unknown rescuers the video below.
Department of Wildlife Resources conservation officer Mark Ekins said he often responds to help trappers release cougars, which are accidentally caught in traps meant for coyotes or bobcats. It is against the law to intentionally trap a cougar in the state of Utah. If a trapper discovers a mountain lion in their trap, they are legally required to release the animal and report it to DWR officials within 48 hours.
Trappers are discouraged from attempting to release accidentally-caught cougars themselves. "It could be a potential dangerous situation," Ekins said. "Anytime they feel uncomfortable at all, we'd definitely rather them call us and allow us to help them rather than take a chance of injuring an animal."
While many of the large cougars are able to pull out of the traps and can free themselves, sometimes help is required to safely release the animal. Ekins said they "prefer to use animal tranquilizer darts when possible… but tranquilizers have to be kept in a main DWR office", and thus in remote areas like this, rescuers must use old fashioned methods.
Watch the intense rescue now:
Full video:
The Latest
The hairy frogfish (Antennarius striatus), also known as striated frogfish, is one of the most bizarre creatures in the ocean. Found throughout tropical waters in the world's oceans, hairy frogfish have a wide...
Researchers have recently revealed the physical characteristics of a 500-million-year-old fossil — a worm-like creature with hairy front appendages and hook-like back claws.  Ovatiovermis cribratus was discovered in the Burgess shale and concluded to be a...
The worldwide phenomenon of animal beachings has been loosely attributed to many scientific theories, including solar storms — but this is the first time researchers will collect enough data to officially solve the plaguing mystery. Various...
Scientists recently observed the first ever documented asexual reproduction of a zebra shark  in captivity — a promising occurrence for the IUCN listed endangered species. Zebra sharks naturally inhabit the tropical waters of the Indo-Pacific...
Image: Wikimedia Commons Today we know orcas as large, ferocious predators who sit at the top of the ocean's food chain and regularly feed on whales, sharks, dolphins, fish and other sea creatures....
The fossils of an ancient crocodile were discovered in Tunisia — revealing an animal with a 30ft long body and a skull the size of a human.  Researchers were digging for fossils in Tunisia, Africa...