Saving a Cougar Caught in a Trap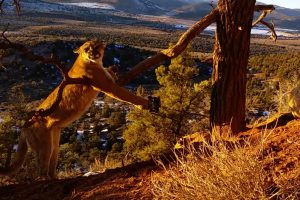 When a large cougar got its paw caught in a hunting trap, it was up to these rescuers to save this majestic big cat. A video detailing the rescue effort has been shared all over the internet.
The trap was meant to catch bobcats, which overrun the area. This occurred in the Pine Valley Mountains in southern Utah. This large cougar had the misfortune of getting its paw stuck. Watch how angry the wild cat is in the face of its unknown rescuers the video below.
Department of Wildlife Resources conservation officer Mark Ekins said he often responds to help trappers release cougars, which are accidentally caught in traps meant for coyotes or bobcats. It is against the law to intentionally trap a cougar in the state of Utah. If a trapper discovers a mountain lion in their trap, they are legally required to release the animal and report it to DWR officials within 48 hours.
Trappers are discouraged from attempting to release accidentally-caught cougars themselves. "It could be a potential dangerous situation," Ekins said. "Anytime they feel uncomfortable at all, we'd definitely rather them call us and allow us to help them rather than take a chance of injuring an animal."
While many of the large cougars are able to pull out of the traps and can free themselves, sometimes help is required to safely release the animal. Ekins said they "prefer to use animal tranquilizer darts when possible… but tranquilizers have to be kept in a main DWR office", and thus in remote areas like this, rescuers must use old fashioned methods.
Watch the intense rescue now:
Full video:
The Latest
Image: Wikimedia Commons Meet the lionfish: the attractive, but deadly predator that's terrorizing oceans and decimating ecosystems. Native to the Indian and Pacific oceans, lionfish have now made themselves at home throughout the...
The largest deer species ever to walk the earth bore 12ft antlers but died out more than 10,000 years ago — leaving scientists debating its evolution. Megaloceros giganteus has many names, including the...
In the United States, mountain lions and bobcats are currently the biggest felines around; but there was once a different big cat that ruled the American Southwest — the jaguar. If you've watched a few...
Scientists are getting closer to reviving extinct species — but are the benefits worth losing species we already have?  The theoretical idea began with the legendary Jurassic Park and it is becoming a reality now...
Chimpanzees are our closest relatives, so it's no surprise that they use tools to survive in the wilderness. But other less advanced primates make use of tools as well, and they use them...
Woolly mammoths are the most famous of all Ice Age fauna, and they roamed the frozen wastelands of North America and Eurasia until they died out roughly 10,000 years ago. Their extinction is...