Tiger Cub Takedown by Mischievous Gibbon
It's not often that a monkey is seen hanging around Bengal tiger cubs — and nearly unheard of one provoking them. 
When two young tiger cubs approach a clearing in the jungle, this particular tough-guy gibbon decides to teach them a lesson. The gibbon challenges the tigers, ("Come at me bro!") and proceeds to troll the tiger cubs by bonking them repeatedly on the head. The tigers are confused and embarrassed. Forget WorldStar — this is what it looks like to throw down in the jungle!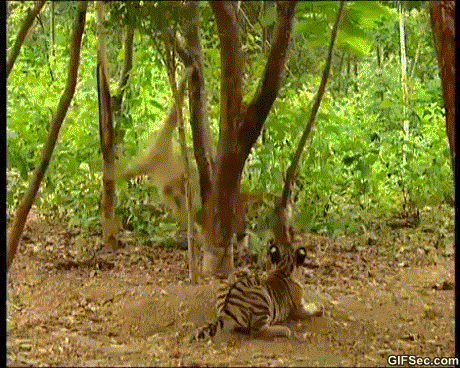 This lesser ape known as a gibbon is commonly found in tropical jungles throughout Southeast Asia. These agile creatures are remarked for their mastery of brachiation — a helpful skill amongst the tree tops in a brawl against two earth-bound tiger cubs. 
While Bengal tigers are feared for their terrifying take-down style involving long striking paws and clamping powerful jaws full of massive slaughtering fangs, in this particular situation they just can't seem to get a grasp on their taunting prey.
This ape uses his speed to easily evade any attempt at counter-attack, leaving frustrated, growling tigers sulking uselessly beneath the bowing tree branches springing the gibbon from tree to tree.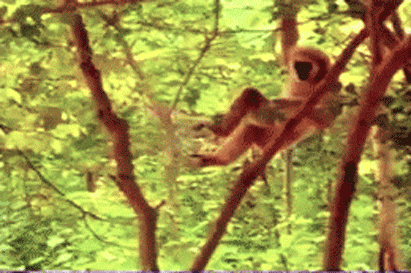 If these tigers were fully grown, it would probably have been a very different situation. But while these cats are young, the gibbon will take full advantage of the all too easy opportunity to embarrass two of the most feared predators in the animal kingdom. This monkey is a classic troll.
Watch:
The Latest
Image: Wikimedia Commons Meet the lionfish: the attractive, but deadly predator that's terrorizing oceans and decimating ecosystems. Native to the Indian and Pacific oceans, lionfish have now made themselves at home throughout the...
The largest deer species ever to walk the earth bore 12ft antlers but died out more than 10,000 years ago — leaving scientists debating its evolution. Megaloceros giganteus has many names, including the...
In the United States, mountain lions and bobcats are currently the biggest felines around; but there was once a different big cat that ruled the American Southwest — the jaguar. If you've watched a few...
Scientists are getting closer to reviving extinct species — but are the benefits worth losing species we already have?  The theoretical idea began with the legendary Jurassic Park and it is becoming a reality now...
Chimpanzees are our closest relatives, so it's no surprise that they use tools to survive in the wilderness. But other less advanced primates make use of tools as well, and they use them...
Woolly mammoths are the most famous of all Ice Age fauna, and they roamed the frozen wastelands of North America and Eurasia until they died out roughly 10,000 years ago. Their extinction is...