Tiger Cub Takedown by Mischievous Gibbon
It's not often that a monkey is seen hanging around Bengal tiger cubs — and nearly unheard of one provoking them. 
When two young tiger cubs approach a clearing in the jungle, this particular tough-guy gibbon decides to teach them a lesson. The gibbon challenges the tigers, ("Come at me bro!") and proceeds to troll the tiger cubs by bonking them repeatedly on the head. The tigers are confused and embarrassed. Forget WorldStar — this is what it looks like to throw down in the jungle!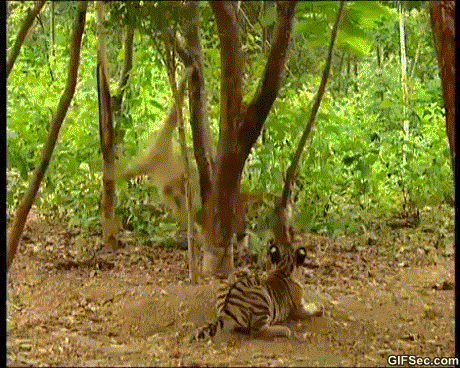 This lesser ape known as a gibbon is commonly found in tropical jungles throughout Southeast Asia. These agile creatures are remarked for their mastery of brachiation — a helpful skill amongst the tree tops in a brawl against two earth-bound tiger cubs. 
While Bengal tigers are feared for their terrifying take-down style involving long striking paws and clamping powerful jaws full of massive slaughtering fangs, in this particular situation they just can't seem to get a grasp on their taunting prey.
This ape uses his speed to easily evade any attempt at counter-attack, leaving frustrated, growling tigers sulking uselessly beneath the bowing tree branches springing the gibbon from tree to tree.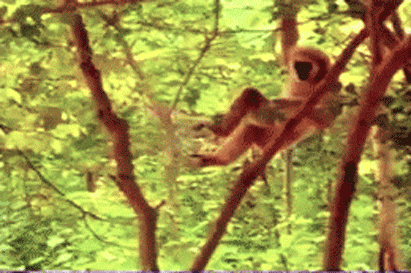 If these tigers were fully grown, it would probably have been a very different situation. But while these cats are young, the gibbon will take full advantage of the all too easy opportunity to embarrass two of the most feared predators in the animal kingdom. This monkey is a classic troll.
Watch:
The Latest
A group has started looking at the culling methods of "unwanted animals" to determine if there are better ways.  Invasive species are often considered pests in their non-native homes, including possums, rabbits, beavers, cats, and...
Image: Wikimedia Commons Predators will start becoming even fiercer as global temperatures rise, says a new study that looked at how warmer conditions could affect diversity and competition between species. According to a...
Researchers have just confirmed that while cephalopods (octopus, cuttlefish and squid) are experts at camouflaging themselves, they're completely colorblind. Professor Justin Marshall and Dr Wen-Sung Chung of the Queensland Brain Institute studied octopus...
The mystical ghost shark has inhabited the deepest ocean depths since before the age of the dinosaurs and scientists have just recently discovered the 50th species — reportedly the second largest in history. Ghost...
A giant worm-like sea creature the size of a baseball bat was recently spotted by scientists for the first time, and you may wish you'd never seen them. Though their long, tusk-like shells...
Image: Wikimedia Commons Humans typically aren't a favorite menu item for lions, but occasionally, they do prey on people. Perhaps the most infamous incident was in 1898, when a pair of lions went on...