Macaque Monkeys Are Physically Capable of Speaking (Listen!)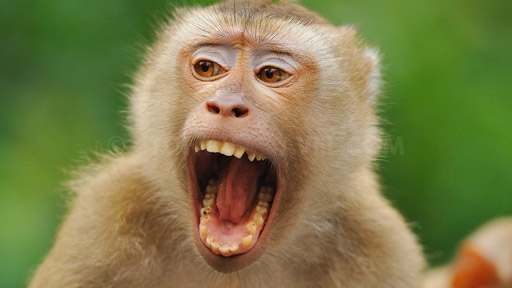 Image: tontantravel via Flickr
Some monkeys are physically capable of producing human speech. But their brains just aren't wired to do so, says a new study published in Science Advances.
Researchers recorded X-ray of a long-tailed macaque's vocal and facial movements as he made different sounds, like coos, grunts, yawns and lip smacks. Then, they used a computer model to simulate possible sounds based on the vocal configurations they captured.
They found that macaques could theoretically produce many the sounds needed for "clearly intelligible" human speech – including all five vowel sounds.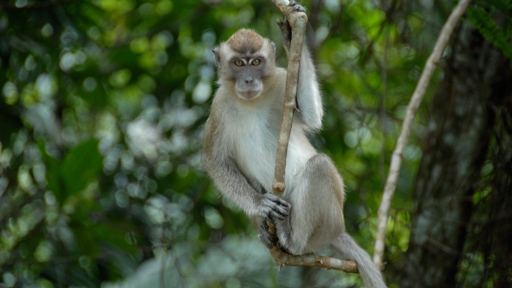 Image: Wikimedia Commons
So why haven't they actually develop the capacity to speak?
Well, the researchers say monkey's brains aren't "speech ready." They lack the ability to perform the complex vocal learning and speech control that is unique to humans — which is why scientists have never been able to successfully train primates to speak.
But even if they could talk, they probably wouldn't sound exactly like us. The computer's simulation of a macaque saying "Will you marry me?" sounds incredibly creepy. (Listen below.)
Up until now, scientists have debated whether it was anatomical or cognitive differences that make humans capable of speaking and not animals.
"Even if this finding only applies to macaque monkeys, it would still debunk the idea that it's the anatomy that limits speech in nonhumans," said Asif Ghazanfar, one of the study's authors, in a press release by Princeton University.
"Now, the interesting question is, what is it in the human brain that makes it special?"
The Latest
Reports of oarfish turning up on shore have historically preceded earthquakes — leaving scientists pondering how some animals may be able to forecast the future. Regalecus glesne, or the oarfish, is the longest bony...
This monkey is a real swinger, and researchers have the sex tape to prove it. The Japanese macaque was recorded trying to mount not one, but two Sika deer, and even chased away...
A new species of spider wasp was discovered killing live ants and collecting the bodies for home security. Deuteragenia ossarium is a recently analyzed species of spider wasp that was found hiding skeletons...
A director for the Sea Shepherd Conservation Society recently reported finding more than 100,000 shark fins drying on a rooftop in Shanghai.  Southeast Asia has become the frontrunner for capturing sharks and removing...
Image: Wikipedia While theoretically larger animals with more cells should be more predisposed to cancer — research shows elephants are hardly ever affected. Cancer is created when mistakes are made in cell reproduction,...
These unique reptiles open gaping pink mouths and wag their bright blue tongues to scare away predators — often with astounding success. Blue tongued skinks are native to Australia and persist primarily in...