10 Ft. Hammerhead Shark Pulled to Beach by Brave Teen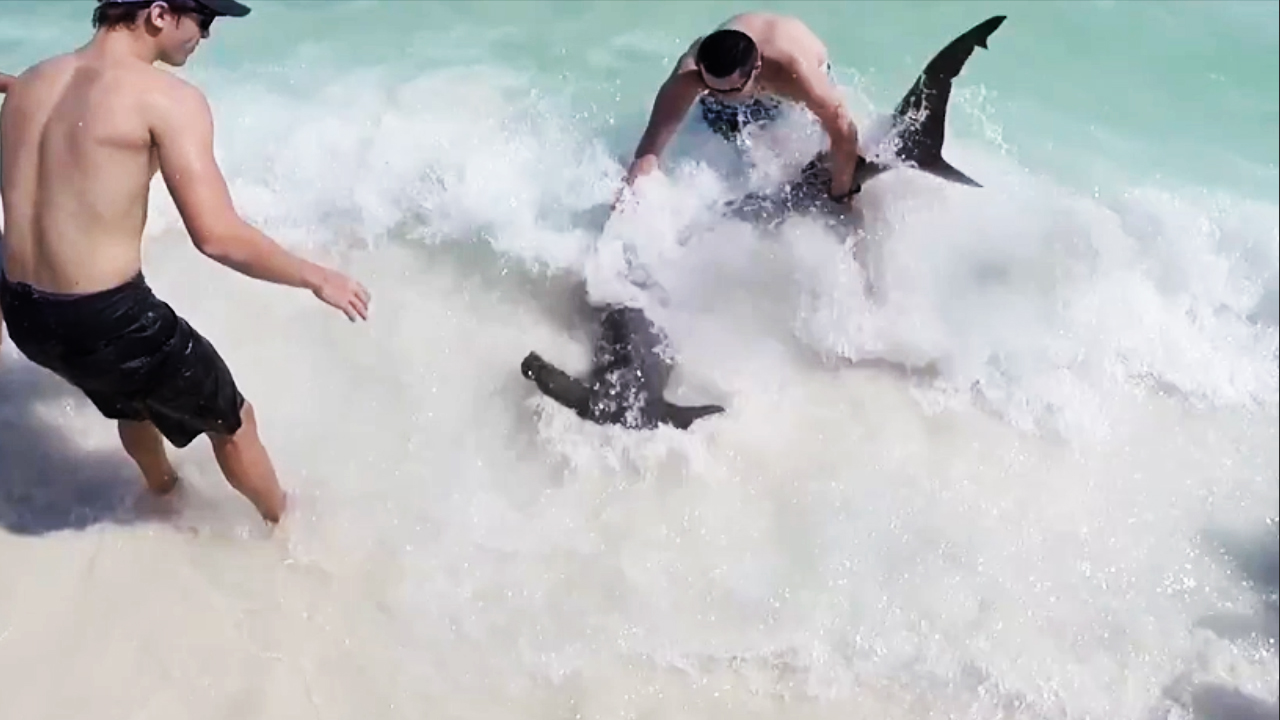 Usually when you see a giant shark swimming towards you, the last thing you want to do is jump in the water. However, when these guys saw an injured ten foot long hammerhead shark floundering near this Florida beach, they jumped into action.
Surrounded by beach-goers with cameras in hand, these folks quickly worked to rescue the injured beast. Logan Lakos, one of the rescuers, knew hammerhead sharks are generally uninterested in attacking humans, so he was comfortable stepping in after realizing it was injured. When the shark was stabilized, the makeshift rescue team worked to remove the two large fishing hooks lodged in its mouth.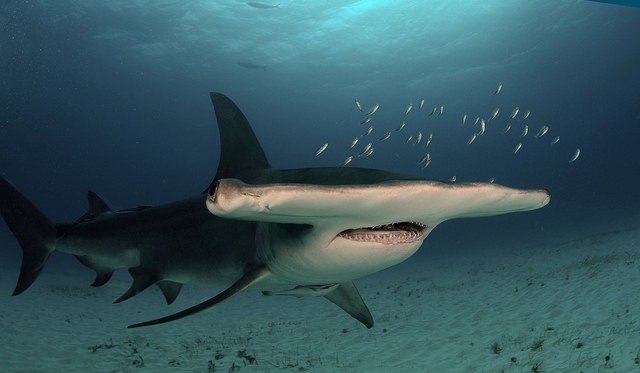 Once the hammerhead was freed from the hooks, it was clearly confused — it initially tried to jump towards shore.
Logan Lakos jumped into action again, guiding the shark away from the onlookers on the beach and out to the deep sea. The shark appeared to have no further injuries and once it found its bearings, was able to swim away successfully.
What would you do?
VIDEO:
The Latest
A group has started looking at the culling methods of "unwanted animals" to determine if there are better ways.  Invasive species are often considered pests in their non-native homes, including possums, rabbits, beavers, cats, and...
Image: Wikimedia Commons Predators will start becoming even fiercer as global temperatures rise, says a new study that looked at how warmer conditions could affect diversity and competition between species. According to a...
Researchers have just confirmed that while cephalopods (octopus, cuttlefish and squid) are experts at camouflaging themselves, they're completely colorblind. Professor Justin Marshall and Dr Wen-Sung Chung of the Queensland Brain Institute studied octopus...
The mystical ghost shark has inhabited the deepest ocean depths since before the age of the dinosaurs and scientists have just recently discovered the 50th species — reportedly the second largest in history. Ghost...
A giant worm-like sea creature the size of a baseball bat was recently spotted by scientists for the first time, and you may wish you'd never seen them. Though their long, tusk-like shells...
Image: Wikimedia Commons Humans typically aren't a favorite menu item for lions, but occasionally, they do prey on people. Perhaps the most infamous incident was in 1898, when a pair of lions went on...