Great White Shark Attacks Inflatable Boat! (Exclusive Video)
Why does a rubber inflatable boat sink in the ocean? Because a Great White Shark has just taken a Chunk out of it!
The attack took place off the coast of Mossel Bay in South Africa. Roaring Earth is thrilled to be partnered with legendary adventurer and South African Tour Operator Rainer Schimpf.
Ranier, a world traveler and dive expert is owner and founder of Expert-Tours. The company, based out of Port Elizabeth, is one of the best kept secrets within South Africa.
We applaud Expert-Tours for their level-headedness this particular day. We followed the sardine runs and near Seal Island, we found one very curious, clever and feisty Great White Shark!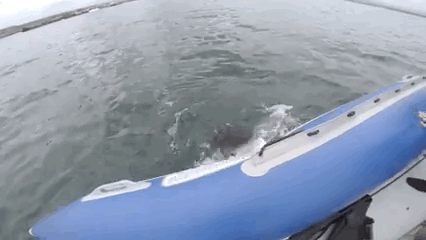 Tours with Rainer, out of Port Elizabeth South Africa, can be booked at Expert-Tours.
Is the scariest part when the Shark eyes our folks on the boat? Ah Yeah.
Great White Sharks are amazing creatures. They should be respected and protected.
The awesome Great White can grow to 21 feet in length. It IS THE apex predator of the sea. Except for maybe the ORCA. Great Whites have been around for over 15 million years.
Are they the offspring of the Megalodon? Not sure. Science is still working on that.
Video:
The Latest
Reports of oarfish turning up on shore have historically preceded earthquakes — leaving scientists pondering how some animals may be able to forecast the future. Regalecus glesne, or the oarfish, is the longest bony...
This monkey is a real swinger, and researchers have the sex tape to prove it. The Japanese macaque was recorded trying to mount not one, but two Sika deer, and even chased away...
A new species of spider wasp was discovered killing live ants and collecting the bodies for home security. Deuteragenia ossarium is a recently analyzed species of spider wasp that was found hiding skeletons...
A director for the Sea Shepherd Conservation Society recently reported finding more than 100,000 shark fins drying on a rooftop in Shanghai.  Southeast Asia has become the frontrunner for capturing sharks and removing...
Image: Wikipedia While theoretically larger animals with more cells should be more predisposed to cancer — research shows elephants are hardly ever affected. Cancer is created when mistakes are made in cell reproduction,...
These unique reptiles open gaping pink mouths and wag their bright blue tongues to scare away predators — often with astounding success. Blue tongued skinks are native to Australia and persist primarily in...