Great White Shark Attacks Inflatable Boat! (Exclusive Video)
Why does a rubber inflatable boat sink in the ocean? Because a Great White Shark has just taken a Chunk out of it!
The attack took place off the coast of Mossel Bay in South Africa. Roaring Earth is thrilled to be partnered with legendary adventurer and South African Tour Operator Rainer Schimpf.
Ranier, a world traveler and dive expert is owner and founder of Expert-Tours. The company, based out of Port Elizabeth, is one of the best kept secrets within South Africa.
We applaud Expert-Tours for their level-headedness this particular day. We followed the sardine runs and near Seal Island, we found one very curious, clever and feisty Great White Shark!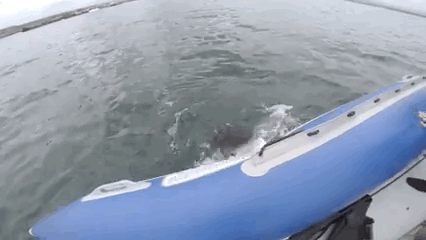 Tours with Rainer, out of Port Elizabeth South Africa, can be booked at Expert-Tours.
Is the scariest part when the Shark eyes our folks on the boat? Ah Yeah.
Great White Sharks are amazing creatures. They should be respected and protected.
The awesome Great White can grow to 21 feet in length. It IS THE apex predator of the sea. Except for maybe the ORCA. Great Whites have been around for over 15 million years.
Are they the offspring of the Megalodon? Not sure. Science is still working on that.
Video:
The Latest
Image: Wikimedia Commons Meet the lionfish: the attractive, but deadly predator that's terrorizing oceans and decimating ecosystems. Native to the Indian and Pacific oceans, lionfish have now made themselves at home throughout the...
The largest deer species ever to walk the earth bore 12ft antlers but died out more than 10,000 years ago — leaving scientists debating its evolution. Megaloceros giganteus has many names, including the...
In the United States, mountain lions and bobcats are currently the biggest felines around; but there was once a different big cat that ruled the American Southwest — the jaguar. If you've watched a few...
Scientists are getting closer to reviving extinct species — but are the benefits worth losing species we already have?  The theoretical idea began with the legendary Jurassic Park and it is becoming a reality now...
Chimpanzees are our closest relatives, so it's no surprise that they use tools to survive in the wilderness. But other less advanced primates make use of tools as well, and they use them...
Woolly mammoths are the most famous of all Ice Age fauna, and they roamed the frozen wastelands of North America and Eurasia until they died out roughly 10,000 years ago. Their extinction is...