Great White Shark Attacks Inflatable Boat! (Exclusive Video)
Why does a rubber inflatable boat sink in the ocean? Because a Great White Shark has just taken a Chunk out of it!
The attack took place off the coast of Mossel Bay in South Africa. Roaring Earth is thrilled to be partnered with legendary adventurer and South African Tour Operator Rainer Schimpf.
Ranier, a world traveler and dive expert is owner and founder of Expert-Tours. The company, based out of Port Elizabeth, is one of the best kept secrets within South Africa.
We applaud Expert-Tours for their level-headedness this particular day. We followed the sardine runs and near Seal Island, we found one very curious, clever and feisty Great White Shark!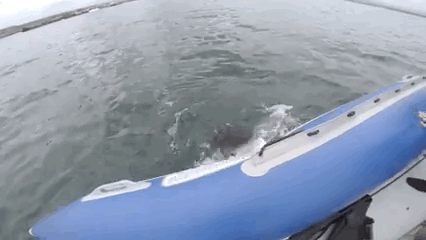 Tours with Rainer, out of Port Elizabeth South Africa, can be booked at Expert-Tours.
Is the scariest part when the Shark eyes our folks on the boat? Ah Yeah.
Great White Sharks are amazing creatures. They should be respected and protected.
The awesome Great White can grow to 21 feet in length. It IS THE apex predator of the sea. Except for maybe the ORCA. Great Whites have been around for over 15 million years.
Are they the offspring of the Megalodon? Not sure. Science is still working on that.
Video:
The Latest
A group has started looking at the culling methods of "unwanted animals" to determine if there are better ways.  Invasive species are often considered pests in their non-native homes, including possums, rabbits, beavers, cats, and...
Image: Wikimedia Commons Predators will start becoming even fiercer as global temperatures rise, says a new study that looked at how warmer conditions could affect diversity and competition between species. According to a...
Researchers have just confirmed that while cephalopods (octopus, cuttlefish and squid) are experts at camouflaging themselves, they're completely colorblind. Professor Justin Marshall and Dr Wen-Sung Chung of the Queensland Brain Institute studied octopus...
The mystical ghost shark has inhabited the deepest ocean depths since before the age of the dinosaurs and scientists have just recently discovered the 50th species — reportedly the second largest in history. Ghost...
A giant worm-like sea creature the size of a baseball bat was recently spotted by scientists for the first time, and you may wish you'd never seen them. Though their long, tusk-like shells...
Image: Wikimedia Commons Humans typically aren't a favorite menu item for lions, but occasionally, they do prey on people. Perhaps the most infamous incident was in 1898, when a pair of lions went on...