This Spider is Bigger Than Your Face and Can Shoot "Arrows" At You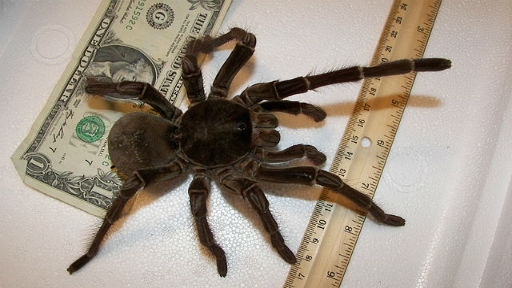 If you've been scouring the internet for your daily moment of "NOPE," look no further. A warning for arachnophobics: there are very, very big spiders in this post.
The Goliath birdeater tarantula is found in the South American rainforest, and is the largest spider in the world. According to biologists, despite the name, it only rarely preys on adult birds. But even so — this is a spider that occasionally eats adult birds.
That makes sense, though. You need a large meal when you're a spider the size of a dinner plate. A fully-grown Goliath birdeater has a leg span of about a foot, and a thick, heavy body that can weigh as much as 7 ounces.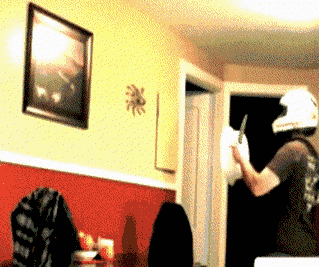 GIF: Giphy
As if size isn't enough, the Goliath birdeater is extremely venomous, and has giant fangs that are more than big enough to pierce human skin. In all likelihood, a bite wouldn't be venomous enough to kill a person, but it would definitely hurt.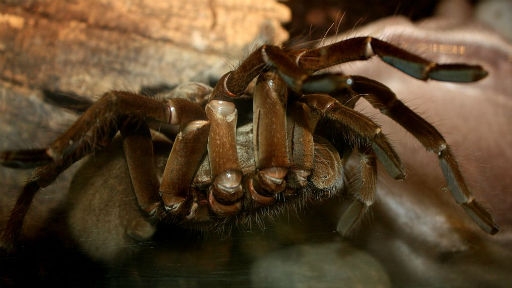 When these giant creepy crawlers are really threatened, though, they don't use their fangs. That's because they've got an even crazier weapon: The hairs on their abdomen, called urticating hairs, have barbed tips. A spider in danger will turn around and use its back legs to shoot these hairs like tiny arrows, and when embedded in human skin they cause extreme irritation.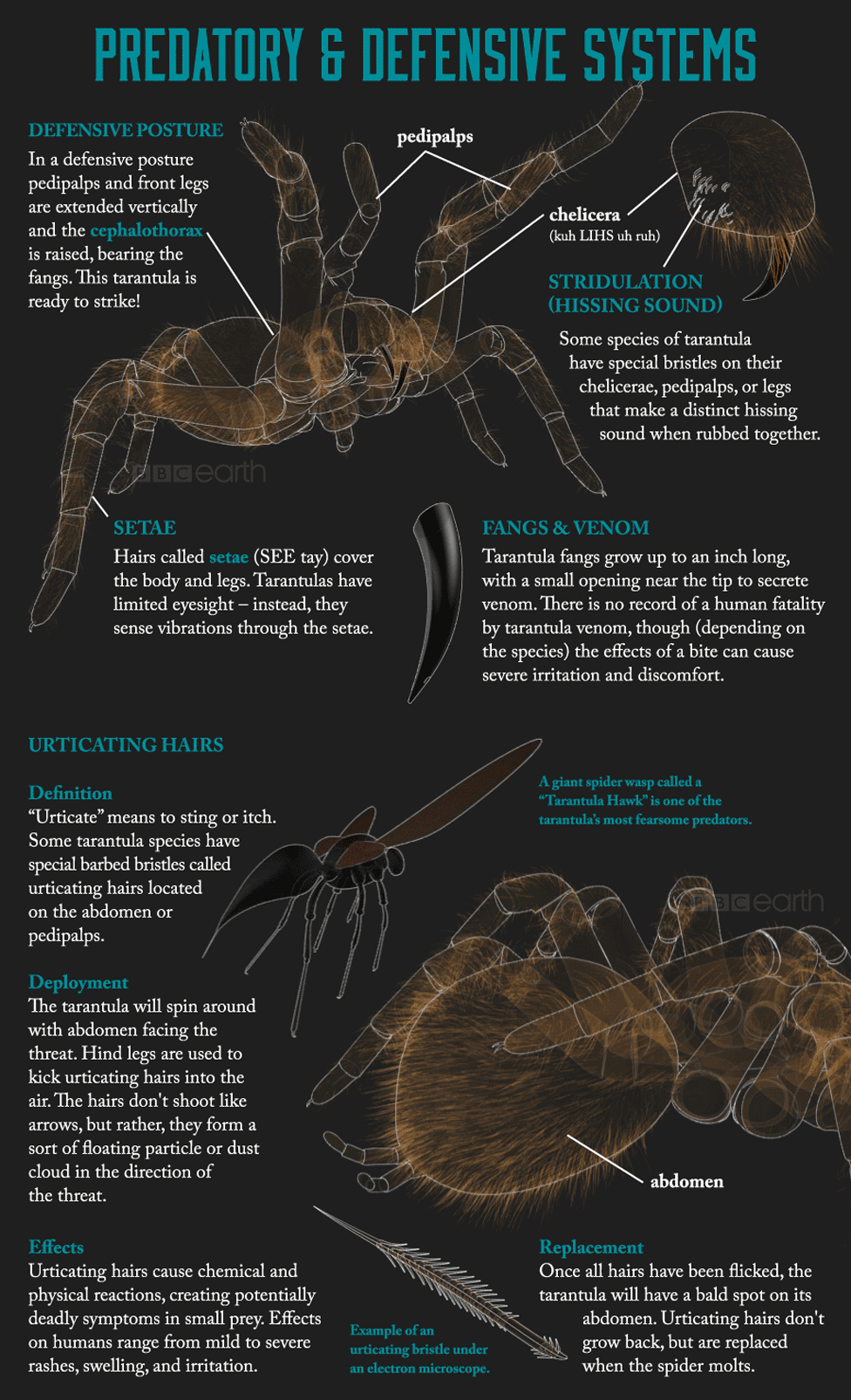 GIF: Imgur/Giphy
In fact, in the 20th century joke shops often sold "itching powder," a mixture of talcum powder and the Goliath birdeater's urticating hairs.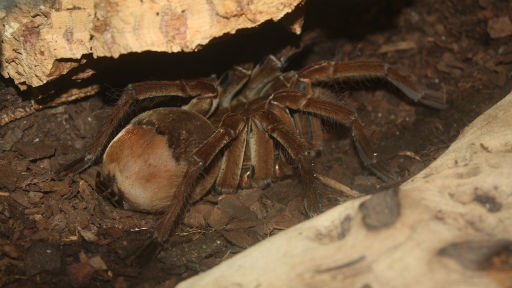 Like most tarantulas, Goliath birdeaters kept as pets tend to be relatively easygoing, and though they will bite, it is typically only in self-defense. But a spider that commonly feeds on rodents, frogs, lizards, snakes, and – again – adult birds, is certainly a spider to approach with caution.
Featured image: John/Flickr
The Latest
The hairy frogfish (Antennarius striatus), also known as striated frogfish, is one of the most bizarre creatures in the ocean. Found throughout tropical waters in the world's oceans, hairy frogfish have a wide...
Researchers have recently revealed the physical characteristics of a 500-million-year-old fossil — a worm-like creature with hairy front appendages and hook-like back claws.  Ovatiovermis cribratus was discovered in the Burgess shale and concluded to be a...
The worldwide phenomenon of animal beachings has been loosely attributed to many scientific theories, including solar storms — but this is the first time researchers will collect enough data to officially solve the plaguing mystery. Various...
Scientists recently observed the first ever documented asexual reproduction of a zebra shark  in captivity — a promising occurrence for the IUCN listed endangered species. Zebra sharks naturally inhabit the tropical waters of the Indo-Pacific...
Image: Wikimedia Commons Today we know orcas as large, ferocious predators who sit at the top of the ocean's food chain and regularly feed on whales, sharks, dolphins, fish and other sea creatures....
The fossils of an ancient crocodile were discovered in Tunisia — revealing an animal with a 30ft long body and a skull the size of a human.  Researchers were digging for fossils in Tunisia, Africa...