Disabled Elephant Rescued After 20 Years of Abuse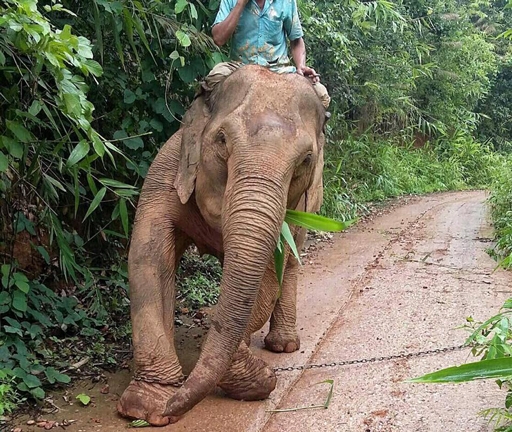 Image: Lek Chailert via Facebook
Meet Kabu, an elephant in Thailand who was recently rescued from years of abuse and poor conditions.
For more than 20 years, Kabu worked in a mountain village, hauling logs along steep roads. Forced to continue working with an injured leg, she eventually developed a debilitating limp as the injury failed to heal properly. But that did not prevent her owner from riding on her back.

Image: elephantnews via YouTube
And that's not all. Kabu lost her two children while they were still young, according to Lek Chailert, who runs the Elephant Nature Park in Chiang Mai and secured her release.  
One was sold to a tourist camp and the other died during a "training crush" – a cruel process which often involves beating and restricting young elephants in cages to domesticate them for work.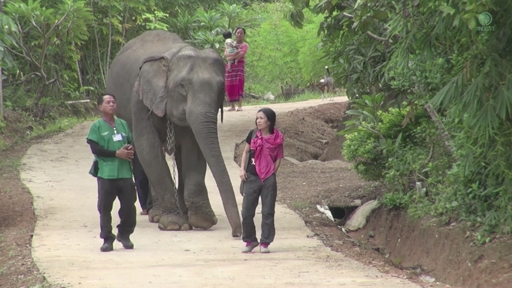 Image: elephantnews via YouTube
Chailert and a group of volunteers traveled to the village to take her back to the Elephant Nature Park, a well-known sanctuary for abused elephants in Thailand. During the 12-hour truck ride home, the rescuers fed Kabu bananas and tamarinds, and poured water over her body to cool her from the heat.
Thailand is filled with stories of animal abuse, as elephants are exploited for the lucrative tourist industry. By the time they are rescued, most abused elephants have mental problems that take years to undo, says Chailert.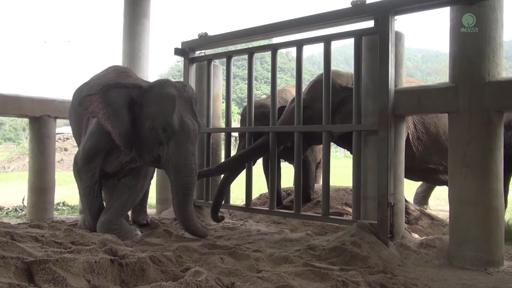 Image: elephantnews via YouTube
Initially, Kabu seemed fearful about entering her new environment when she arrived at the park. But the warm welcome she received from the other elephants quickly calmed her down.  
Watch the video below for more:
The Latest
The hairy frogfish (Antennarius striatus), also known as striated frogfish, is one of the most bizarre creatures in the ocean. Found throughout tropical waters in the world's oceans, hairy frogfish have a wide...
Researchers have recently revealed the physical characteristics of a 500-million-year-old fossil — a worm-like creature with hairy front appendages and hook-like back claws.  Ovatiovermis cribratus was discovered in the Burgess shale and concluded to be a...
The worldwide phenomenon of animal beachings has been loosely attributed to many scientific theories, including solar storms — but this is the first time researchers will collect enough data to officially solve the plaguing mystery. Various...
Scientists recently observed the first ever documented asexual reproduction of a zebra shark  in captivity — a promising occurrence for the IUCN listed endangered species. Zebra sharks naturally inhabit the tropical waters of the Indo-Pacific...
Image: Wikimedia Commons Today we know orcas as large, ferocious predators who sit at the top of the ocean's food chain and regularly feed on whales, sharks, dolphins, fish and other sea creatures....
The fossils of an ancient crocodile were discovered in Tunisia — revealing an animal with a 30ft long body and a skull the size of a human.  Researchers were digging for fossils in Tunisia, Africa...