Disabled Elephant Rescued After 20 Years of Abuse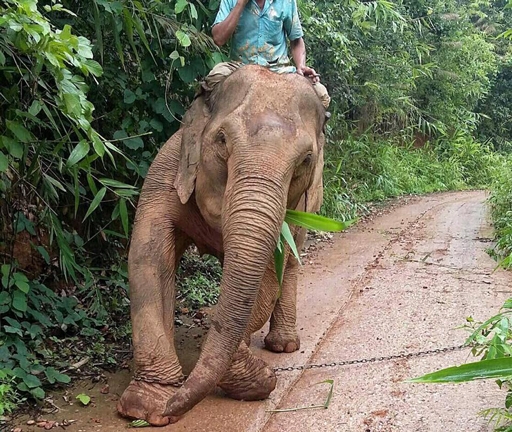 Image: Lek Chailert via Facebook
Meet Kabu, an elephant in Thailand who was recently rescued from years of abuse and poor conditions.
For more than 20 years, Kabu worked in a mountain village, hauling logs along steep roads. Forced to continue working with an injured leg, she eventually developed a debilitating limp as the injury failed to heal properly. But that did not prevent her owner from riding on her back.

Image: elephantnews via YouTube
And that's not all. Kabu lost her two children while they were still young, according to Lek Chailert, who runs the Elephant Nature Park in Chiang Mai and secured her release.  
One was sold to a tourist camp and the other died during a "training crush" – a cruel process which often involves beating and restricting young elephants in cages to domesticate them for work.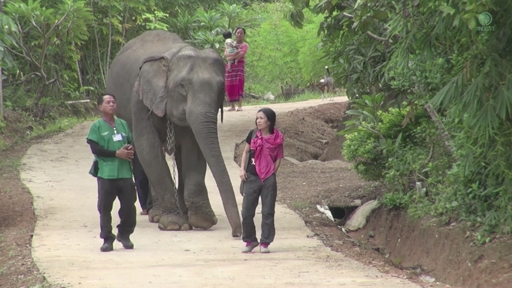 Image: elephantnews via YouTube
Chailert and a group of volunteers traveled to the village to take her back to the Elephant Nature Park, a well-known sanctuary for abused elephants in Thailand. During the 12-hour truck ride home, the rescuers fed Kabu bananas and tamarinds, and poured water over her body to cool her from the heat.
Thailand is filled with stories of animal abuse, as elephants are exploited for the lucrative tourist industry. By the time they are rescued, most abused elephants have mental problems that take years to undo, says Chailert.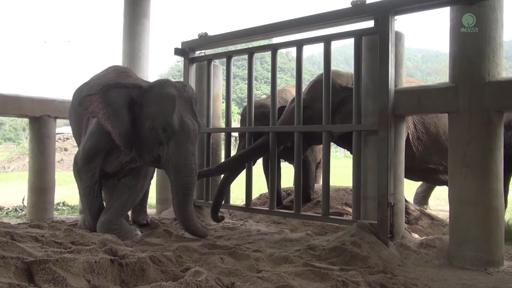 Image: elephantnews via YouTube
Initially, Kabu seemed fearful about entering her new environment when she arrived at the park. But the warm welcome she received from the other elephants quickly calmed her down.  
Watch the video below for more:
The Latest
Reports of oarfish turning up on shore have historically preceded earthquakes — leaving scientists pondering how some animals may be able to forecast the future. Regalecus glesne, or the oarfish, is the longest bony...
This monkey is a real swinger, and researchers have the sex tape to prove it. The Japanese macaque was recorded trying to mount not one, but two Sika deer, and even chased away...
A new species of spider wasp was discovered killing live ants and collecting the bodies for home security. Deuteragenia ossarium is a recently analyzed species of spider wasp that was found hiding skeletons...
A director for the Sea Shepherd Conservation Society recently reported finding more than 100,000 shark fins drying on a rooftop in Shanghai.  Southeast Asia has become the frontrunner for capturing sharks and removing...
Image: Wikipedia While theoretically larger animals with more cells should be more predisposed to cancer — research shows elephants are hardly ever affected. Cancer is created when mistakes are made in cell reproduction,...
These unique reptiles open gaping pink mouths and wag their bright blue tongues to scare away predators — often with astounding success. Blue tongued skinks are native to Australia and persist primarily in...