Buffalo Tosses Lion: Dramatic Fight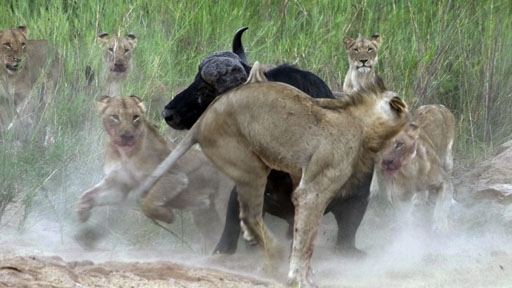 Images: Mariangela Matarazzo Lee/Caters News
This is the moment a lion got more than it bargained for when it was impaled on the horn of an angry buffalo and tossed into the air.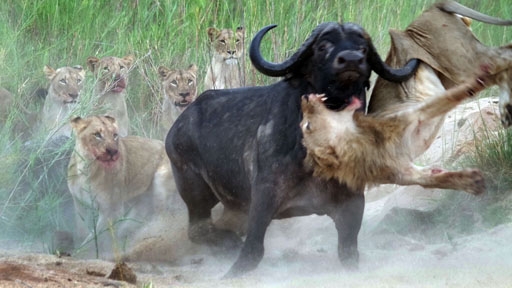 That's gonna leave a mark!
A herd of buffalos had fallen victim to a pride of hungry lions, a fight ensued and one of the buffalos was injured in the attack.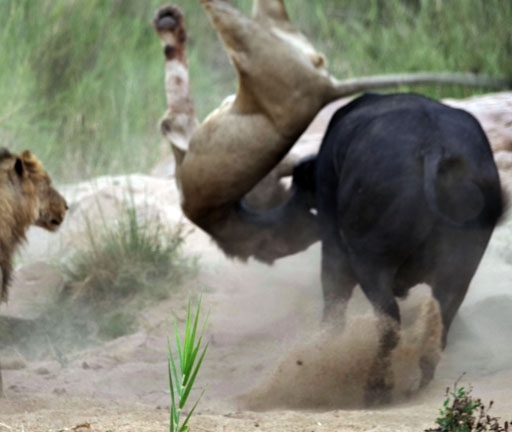 The injured buffalo can be seen being pinned down by the pack of lions and in a bid to rescue his injured friend another buffalo charged towards the lions.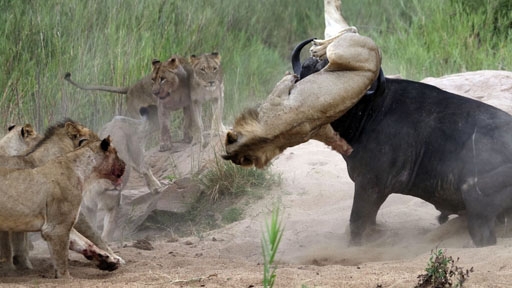 One of the lions ran towards the buffalo in an attempt to tackle it to the ground.
But the lion was struck by the angry buffalo, impaled on it's horn and flung into the air.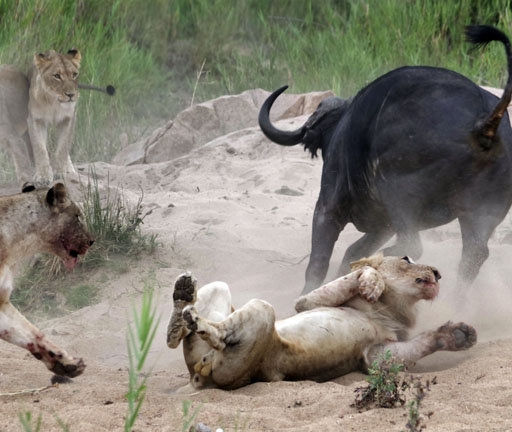 Photographer Mariangela Matarazzo Lee captured the dramatic scenes on camera.

CREDIT: MARIANGELA MATARAZZO LEE/ CATERS NEWS
This isn't the first time we have seen something like this. Buffalos are known to utilize their horns to fight back against hungry lions. Watch a clip when this happened – with a dramatic narration!

The Latest
A group has started looking at the culling methods of "unwanted animals" to determine if there are better ways.  Invasive species are often considered pests in their non-native homes, including possums, rabbits, beavers, cats, and...
Image: Wikimedia Commons Predators will start becoming even fiercer as global temperatures rise, says a new study that looked at how warmer conditions could affect diversity and competition between species. According to a...
Researchers have just confirmed that while cephalopods (octopus, cuttlefish and squid) are experts at camouflaging themselves, they're completely colorblind. Professor Justin Marshall and Dr Wen-Sung Chung of the Queensland Brain Institute studied octopus...
The mystical ghost shark has inhabited the deepest ocean depths since before the age of the dinosaurs and scientists have just recently discovered the 50th species — reportedly the second largest in history. Ghost...
A giant worm-like sea creature the size of a baseball bat was recently spotted by scientists for the first time, and you may wish you'd never seen them. Though their long, tusk-like shells...
Image: Wikimedia Commons Humans typically aren't a favorite menu item for lions, but occasionally, they do prey on people. Perhaps the most infamous incident was in 1898, when a pair of lions went on...