Ultimate Protector: Male Buffalo Kills Lion to Defend Mother & Calf

By Colleen Kelly & Caters / Roaring Earth
This is the moment the hunter became the hunted when a buffalo decided to stand up to some hungry lions.
All looked lost when two lions began stalking a buffalo calf and eventually caught and severely injured it… until its mother arrived.
The distraught mother came to her baby's rescue and, although initially outnumbered, charged at one lioness and stabbed her with her horns.
The battle continued, with the uninjured lions attempting several more attacks on the mother.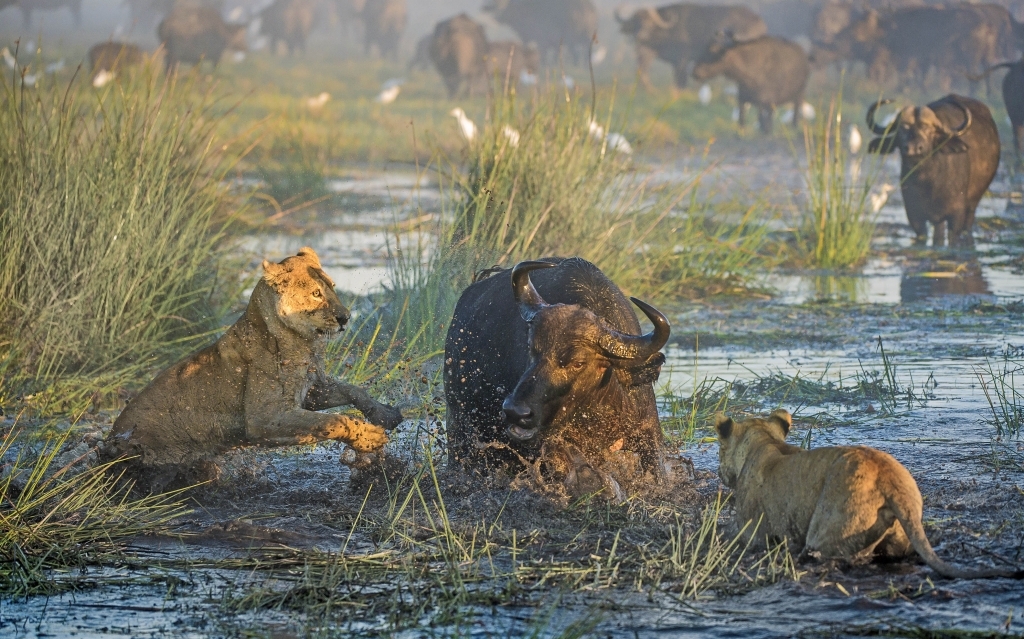 However, in a dramatic turn of events, a protective macho bull stepped in, scaring the lions away and nearly mauling the injured lioness to death – saving the mother's life.
Photographer Wim van den Heever witnessed and captured the bitter battle in Okavango Delta in Botswana.
Wim described how the injured lioness crawled out of the mud and died two days later.
Wim, 43, said: "The bull came and chased the female lions off the mother buffalo, trying to injure them.
"Luckily they escaped, but while he chases them he sees the injured female lion and really finishes her off, by mauling her and pushing her into the mud.
"I've never witnessed anything like this and don't think I'll ever manage to photograph anything like this again."
The lion is the classic "king of the jungle", although as we see in this instance, that is not always the case. The power of a full-grown African Buffalo can be too much for a single lion, which is why lions often hunt as a group.
Watch the video below of a similar instance that a brave buffalo decided to teach a lion a lesson about messing with her calf.
The Latest
With its frilled gills, layered needle-point teeth, snake-like appearance, and quick-striking abilities, this shark is one of the most engrossing creatures of the deep sea. Chlamydoselachus anguineus, most commonly referred to as the...
Reports of oarfish turning up on shore have historically preceded earthquakes — leaving scientists pondering how some animals may be able to forecast the future. Regalecus glesne, or the oarfish, is the longest bony...
This monkey is a real swinger, and researchers have the sex tape to prove it. The Japanese macaque was recorded trying to mount not one, but two Sika deer, and even chased away...
A new species of spider wasp was discovered killing live ants and collecting the bodies for home security. Deuteragenia ossarium is a recently analyzed species of spider wasp that was found hiding skeletons...
A director for the Sea Shepherd Conservation Society recently reported finding more than 100,000 shark fins drying on a rooftop in Shanghai.  Southeast Asia has become the frontrunner for capturing sharks and removing...
Image: Wikipedia While theoretically larger animals with more cells should be more predisposed to cancer — research shows elephants are hardly ever affected. Cancer is created when mistakes are made in cell reproduction,...