Grizzly Bear Battles 4 Wolves
This amazing footage shows the moment a young grizzly bear faced off with a pack of wolves in a desperate attempt to scavenge some food.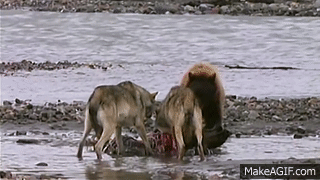 Wolves are social, hunting in packs, while bears prefer a solitary life. The wolf has a biting capacity of 1,000 to 1,500 pounds of pressure per square inch. The Grizzly Bear has a bite that can be up to 1200 pounds per square inch, and also has a thick hide and huge, sharp claws.
The Grizzly Bears and Wolves have coexisted for millennia, but they rarely interact in the wild, generally preferring to avoid each other. But when food is low, these apex predators must compete for survival in the harsh North American winter.
A carcass on the side of a river makes the perfect scavenged meal, and both the wolves and grizzlies know this. But can a single grizzly stand up to a whole pack of wolves?
The inexperienced grizzly is hungry enough to risk it all for some scraps.
In the end, the bear proves his strength, and the wolves must allow him to join them for dinner. Watch how it went down the amazing footage below…
Credit: Russ Gutshall NaturePhotoVideo/NatureFootage
The Latest
A group has started looking at the culling methods of "unwanted animals" to determine if there are better ways.  Invasive species are often considered pests in their non-native homes, including possums, rabbits, beavers, cats, and...
Image: Wikimedia Commons Predators will start becoming even fiercer as global temperatures rise, says a new study that looked at how warmer conditions could affect diversity and competition between species. According to a...
Researchers have just confirmed that while cephalopods (octopus, cuttlefish and squid) are experts at camouflaging themselves, they're completely colorblind. Professor Justin Marshall and Dr Wen-Sung Chung of the Queensland Brain Institute studied octopus...
The mystical ghost shark has inhabited the deepest ocean depths since before the age of the dinosaurs and scientists have just recently discovered the 50th species — reportedly the second largest in history. Ghost...
A giant worm-like sea creature the size of a baseball bat was recently spotted by scientists for the first time, and you may wish you'd never seen them. Though their long, tusk-like shells...
Image: Wikimedia Commons Humans typically aren't a favorite menu item for lions, but occasionally, they do prey on people. Perhaps the most infamous incident was in 1898, when a pair of lions went on...