Grizzly Bear Battles 4 Wolves
This amazing footage shows the moment a young grizzly bear faced off with a pack of wolves in a desperate attempt to scavenge some food.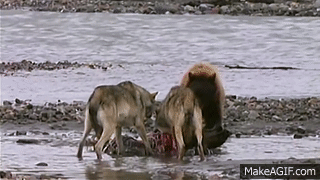 Wolves are social, hunting in packs, while bears prefer a solitary life. The wolf has a biting capacity of 1,000 to 1,500 pounds of pressure per square inch. The Grizzly Bear has a bite that can be up to 1200 pounds per square inch, and also has a thick hide and huge, sharp claws.
The Grizzly Bears and Wolves have coexisted for millennia, but they rarely interact in the wild, generally preferring to avoid each other. But when food is low, these apex predators must compete for survival in the harsh North American winter.
A carcass on the side of a river makes the perfect scavenged meal, and both the wolves and grizzlies know this. But can a single grizzly stand up to a whole pack of wolves?
The inexperienced grizzly is hungry enough to risk it all for some scraps.
In the end, the bear proves his strength, and the wolves must allow him to join them for dinner. Watch how it went down the amazing footage below…
Credit: Russ Gutshall NaturePhotoVideo/NatureFootage
The Latest
Image: Wikimedia Commons Meet the lionfish: the attractive, but deadly predator that's terrorizing oceans and decimating ecosystems. Native to the Indian and Pacific oceans, lionfish have now made themselves at home throughout the...
The largest deer species ever to walk the earth bore 12ft antlers but died out more than 10,000 years ago — leaving scientists debating its evolution. Megaloceros giganteus has many names, including the...
In the United States, mountain lions and bobcats are currently the biggest felines around; but there was once a different big cat that ruled the American Southwest — the jaguar. If you've watched a few...
Scientists are getting closer to reviving extinct species — but are the benefits worth losing species we already have?  The theoretical idea began with the legendary Jurassic Park and it is becoming a reality now...
Chimpanzees are our closest relatives, so it's no surprise that they use tools to survive in the wilderness. But other less advanced primates make use of tools as well, and they use them...
Woolly mammoths are the most famous of all Ice Age fauna, and they roamed the frozen wastelands of North America and Eurasia until they died out roughly 10,000 years ago. Their extinction is...