Grizzly Bear Battles 4 Wolves
This amazing footage shows the moment a young grizzly bear faced off with a pack of wolves in a desperate attempt to scavenge some food.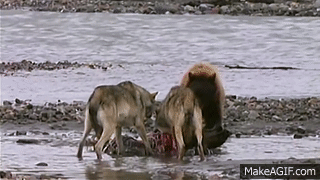 Wolves are social, hunting in packs, while bears prefer a solitary life. The wolf has a biting capacity of 1,000 to 1,500 pounds of pressure per square inch. The Grizzly Bear has a bite that can be up to 1200 pounds per square inch, and also has a thick hide and huge, sharp claws.
The Grizzly Bears and Wolves have coexisted for millennia, but they rarely interact in the wild, generally preferring to avoid each other. But when food is low, these apex predators must compete for survival in the harsh North American winter.
A carcass on the side of a river makes the perfect scavenged meal, and both the wolves and grizzlies know this. But can a single grizzly stand up to a whole pack of wolves?
The inexperienced grizzly is hungry enough to risk it all for some scraps.
In the end, the bear proves his strength, and the wolves must allow him to join them for dinner. Watch how it went down the amazing footage below…
Credit: Russ Gutshall NaturePhotoVideo/NatureFootage
The Latest
With its frilled gills, layered needle-point teeth, snake-like appearance, and quick-striking abilities, this shark is one of the most engrossing creatures of the deep sea. Chlamydoselachus anguineus, most commonly referred to as the...
Reports of oarfish turning up on shore have historically preceded earthquakes — leaving scientists pondering how some animals may be able to forecast the future. Regalecus glesne, or the oarfish, is the longest bony...
This monkey is a real swinger, and researchers have the sex tape to prove it. The Japanese macaque was recorded trying to mount not one, but two Sika deer, and even chased away...
A new species of spider wasp was discovered killing live ants and collecting the bodies for home security. Deuteragenia ossarium is a recently analyzed species of spider wasp that was found hiding skeletons...
A director for the Sea Shepherd Conservation Society recently reported finding more than 100,000 shark fins drying on a rooftop in Shanghai.  Southeast Asia has become the frontrunner for capturing sharks and removing...
Image: Wikipedia While theoretically larger animals with more cells should be more predisposed to cancer — research shows elephants are hardly ever affected. Cancer is created when mistakes are made in cell reproduction,...