Airplane-Sized Seabird with Teeth Discovered in Antarctica

A relative of the giant seabird discovered, taken at the Museum of Natural History in Washington, DC by Ryan Somma
The remnants of a seabird the size of a small airplane (with teeth!) has been discovered on the Antarctic Island of Marambio.
Scientists found only a remnant of the humerus, which is the arm bone, but could still easily determine that the specimen was one of the oldest Antarctic birds known to science.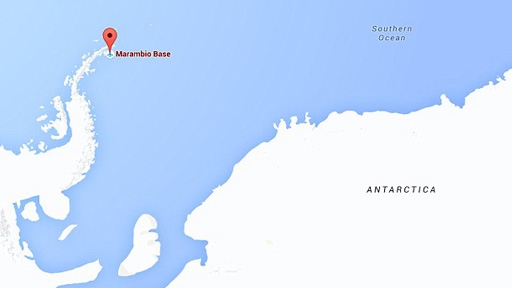 Argentine research base where fossil was found on Marambio Island, Antarctica
This particular species was known for its "pseudo-teeth." Pseudo teeth are made from the bone of the jaw and are covered in a beak-like material.
Because the teeth weren't serrated, researchers gather that they were used for grasping and swallowing rather than tearing and shredding prey.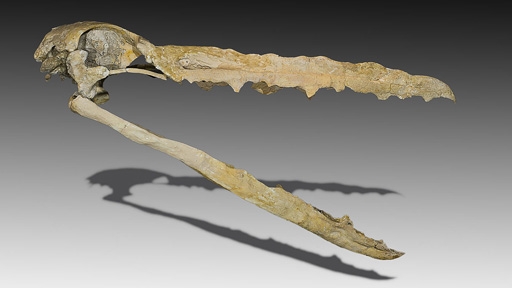 According to a study by Marcos Cenizo of the Provincial Museum of Natural History, the bird is estimated to have existed between 49 and 53 million years ago in the Lower Eocene Epoch.
The ancient seabird belongs to the prehistoric family pelagornithidae, which is a cousin to the goose and duck family. Pelagornithids existed for nearly 60 million years before mysteriously going extinct 2 to 3 million years ago.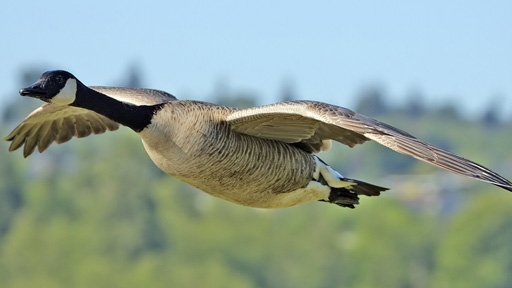 Pelagornithid's living cousin, a goose
Pelagornithids were extremely large birds with wingspans over 20 feet. Given the size of the humerus, scientists estimate that this particular bird had a wingspan of 21 feet.
The lightweight bones of pelagornithids probably allowed them to fly long distances over open ocean as modern-day seabirds do today. We can only imagine what a sight that must have been!
The Latest
A group has started looking at the culling methods of "unwanted animals" to determine if there are better ways.  Invasive species are often considered pests in their non-native homes, including possums, rabbits, beavers, cats, and...
Image: Wikimedia Commons Predators will start becoming even fiercer as global temperatures rise, says a new study that looked at how warmer conditions could affect diversity and competition between species. According to a...
Researchers have just confirmed that while cephalopods (octopus, cuttlefish and squid) are experts at camouflaging themselves, they're completely colorblind. Professor Justin Marshall and Dr Wen-Sung Chung of the Queensland Brain Institute studied octopus...
The mystical ghost shark has inhabited the deepest ocean depths since before the age of the dinosaurs and scientists have just recently discovered the 50th species — reportedly the second largest in history. Ghost...
A giant worm-like sea creature the size of a baseball bat was recently spotted by scientists for the first time, and you may wish you'd never seen them. Though their long, tusk-like shells...
Image: Wikimedia Commons Humans typically aren't a favorite menu item for lions, but occasionally, they do prey on people. Perhaps the most infamous incident was in 1898, when a pair of lions went on...